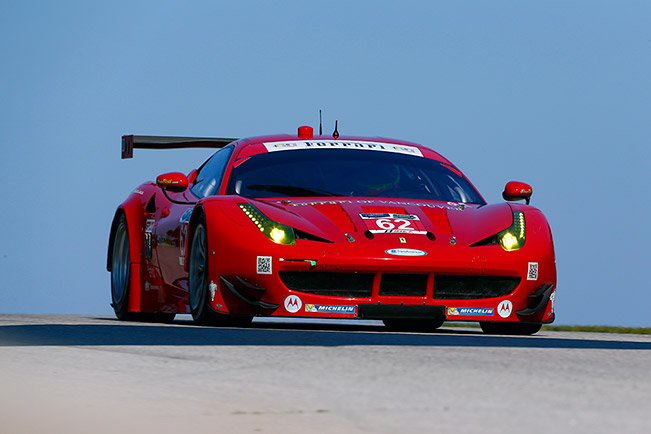 A Ferrari 458 Italia took victory for the fourth time this season in the TUDOR United SportsCar Championship at the famous Road America in Elkhart Lake, Wisconsin, on Sunday afternoon.
The no. 62 Risi Competizione Ferrari 458 Italia driven by Giancarlo Fisichella and Pierre Kaffer scored its first victory of the season, one race after scoring its first podium of the year at Indianapolis Motor Speedway. Competing in the GT-LeMans class, which features factory programs from several OEM's, Giuseppe Risi's privately owned team led throughout Sunday's two hour and forty-five minute race. Withstanding sustained pressure in the closing stages, Kaffer drove the Ferrari past the checkered flag with a 1.5-second margin of victory over his closest pursuer.
The victory is the eleventh for the Ferrari 458 Italia in North American endurance racing, and the fourth in this season's TUDOR Championship after GT-Daytona class wins at Daytona, Detroit and Indianapolis. It is also the latest in a long line of racing success for Risi, the owner of Ferrari dealerships in Austin, Texas and Houston, Texas.
"It was a great result, especially since this is the first win of the year for Risi Competizione and the 60th Anniversary of Ferrari in North America," said Fisichella. "Everyone from Risi Competizione did a fantastic job. The key to winning the race was in the pits – we went into the pits in fifth place and came out in first and Pierre was able to keep the position right to the end. I'd really like to thank everyone at Risi Competizione and Ferrari."
In the GT-Daytona class, Bill Sweedler and Townsend Bell drove to a fifth place finish in the no. 555 AIM Autosport Ferrari 458 Italia. The result, accomplished after starting from ninth position, maintained their lead in the GT-Daytona point's championship and helped Ferrari to maintain its advantage in the GT-Daytona manufacturer championship.
Having a troubling race was the no. 63 Scuderia Corsa Ferrari 458 Italia of Alessandro Balzan and Jeff Westphal, winners of the previous race at Indianapolis. The no. 63 Scuderia Corsa Ferrari 458 Italia suffered heavy damage when it was hit by another GT-Daytona class car in the opening stages of the race, and lost several laps making repairs.
The next race in the TUDOR Championship will be the Oak Tree Grand Prix at Virginia International Raceway on August 23-24. That weekend will feature a standalone race for the GT-LeMans and GT-Daytona class cars.
Source: Ferrari