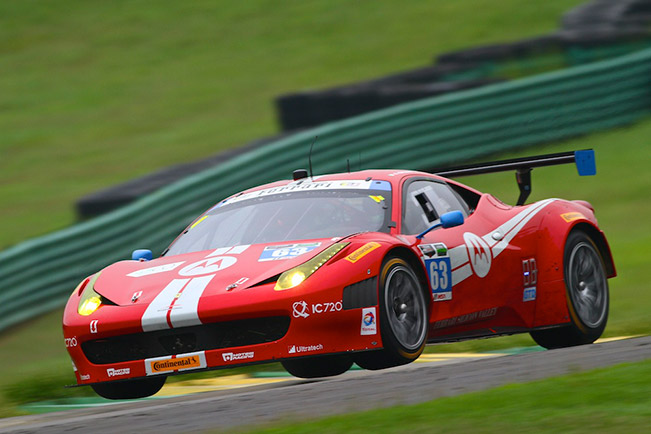 A dramatic Oak Tree Grand Prix at Virginia International Raceway (VIR) that was settled on the final lap saw the no. 62 Risi Competizione Ferrari 458 Italia score its second successive victory in the United SportsCar Championship.
The victory is the 12th for the Ferrari 458 Italia in North American endurance racing, and the fifth this season following GT-Daytona victories at Daytona, Detroit, and Indianapolis and two straight victories in GT-Le Mans for Risi Competizione.
The team's Ferrari 458 Italia also caputred pole position for the Oak Tree Grand Prix at the hands of Pierre Kaffer, who led the field to the green flag. Nearly two hours and forty-five minutes later, Giancarlo Fisichella passed a Porsche 911 RSR on the final lap to secure the victory. This win follows a second place finish at Indianapolis as well as a victory at Road America for Risi Competizione, and is the second victory in a row at VIR for the team following victory in last year's American Le Mans Series race.
"The Ferrari 458 Italia was good and consistent from the beginning to the end, and we had good straight line speed" – said Fisichella – "I think that was key to me being able to pass the Porsche on the last lap. The end of the race was so exciting for us and I think enjoyable for everyone around the circuit and on tv! I braked on the limit and went so close to the Porsche, and it was a great fight between us".
In the GT-Daytona class, Alessandro Balzan narrowly missed scoring the third victory of the year in the no. 63 Scuderia Corsa Ferrari 458 Italia that he shares with Jeff Westphal. After a strong opening stint by Westphal and an excellent strategy called by the Scuderia Corsa crew, the Ferrari went from its starting position of ninth to finish in second place.
As a result, Ferrari maintains the lead in the GT-D manufacturer standings.
Having a troubling race was the GT-D championship leading no. 555 AIM Autosport Ferrari 458 Italia of Bill Sweedler and Townsend Bell. After serving two penalties, Bell would bring the Ferrari to the checkered flag in eighth position. They remain in the lead of the GT-D driver's championship, but are now tied for the lead.
The next race on the Championship schedule will be September 19-20 at Circuit of the Americas in Austin, Texas.
Source: Ferrari