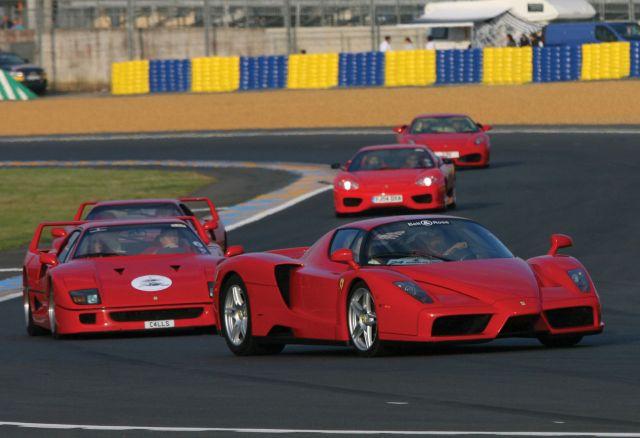 At 7.30am on Saturday 14th June, the morning of the Le Mans 24 Hours, some 60 Ferraris took to the circuit for the Heritage Parade, organised by Motor Racing Legends. This gives Le Mans-goers the unique opportunity to drive three high-speed parade laps of the full, 8.5-mile race circuit in their own cars, just a few hours before the start of the world's greatest endurance race.
This year, the Parade was specifically for Ferrari owners and the early morning spectators looked on in amazement as F40s and 355 Spiders, F430s and Challenge Stradales, 328 GTBs and 550 Maranellos – a vast range of models from the Prancing Horse – swept by at full chat.
"There are very few people who get to drive the full circuit, with all the public roads closed, unless they're actually racing there," said Peter Everingham of the Ferrari Owners' Club. "It's a fantastic experience and a great privilege."
Among the Parade participants was none other than the great racing driver Jack Sears, at the wheel of his own Ferrari 328 GTS, which he bought new in 1989. "We had a wonderful few laps," said Sears after the Parade, "a really flowing journey round the circuit."
Speaking to the Ferrari drivers at their post-Parade breakfast in the heart of the Le Mans circuit, it was clear that – for many – hurtling down the Mulsanne Straight was the highlight of the whole experience. Everyone seemed to know exactly what speed they'd reached: "We topped 250km/h," said Peter Everingham, who'd been sharing David Edwards' 550 Maranello. David himself, who had driven his Ferrari all the way from Australia – a trip of some 8000 miles – described his laps of Le Mans as "mind-boggling".
Next year, Motor Racing Legends will be throwing open the Heritage Parade to a much wider range of marques – giving more people than ever the chance to drive the full Le Mans circuit on the morning of the 24 Hours. Applications will be accepted from drivers of both classic and modern cars, wherever the marque has a traditional link to Le Mans: Ferrari, Lagonda, Jaguar, Bentley, Austin-Healey, Riley, Morgan, Aston Martin and so on.