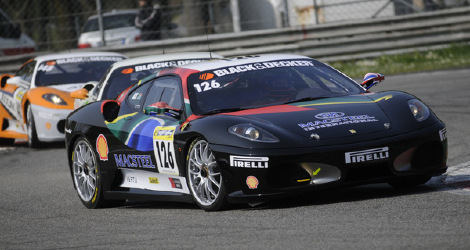 The "competition" versions (Challenge and GTC) of the F430 will be competing this coming weekend at the Silverstone circuit in England. The F430 Challenge cars will be taking part in the second round of this season's European Ferrari Challenge Pirelli Trophy, while the F430 GTC will be making their debut in the FIA GT Championship, where they will be going for a repeat of the clean sweep they achieved over the past two years, when they took the Drivers', Constructors' and Teams' titles, thanks to AF Corse.
More than 50 cars will take part in the English leg of the Prancing Horse one-make series, representing no less than 23 countries. After doing the double in Monza, Austria's Philipp Baron (Baron Service) comes to Silverstone as favourite, thanks to a 14 point lead over Frenchman Ange Barde in the Pirelli Trophy classification. Heading the Shell Cup is an Italian driver, in the shape of Walter Forer (Rossocorsa/Pellin), ahead of fellow countryman Gianluca Carboni (Kessel) and Englishman Michael Cantillon (Ferrari GB Dealer Team).
Ten F430 GTC will line up for the start of the first FIA GT race, split between six teams. Among the drivers, worthy of note the presence of reigning champion, Toni Vilander: the Finn races as part of a pairing with Italy's Gimmi Bruni, who finished second in 2007. In fact, Bruni, along with Robert Bell, won the first race of the LMS series in a GTC, held at Barcelona back on 6th April. On the same day, Dirk Mueller and Dominik Farnbacher took victory at St. Petersburg (USA) in the second round of the ALMS series.
Clearly, the work of the Corse Clienti department moves on at quite a pace. Apart from the racing activity, there is also the FXX programme and that linked to the historic Formula 1 cars, which got underway last weekend in Shanghai, as part of the second running of the Ferrari Festival, which saw over 60 Cavallino cars take part in an event aimed at owners and fans of the marque, in the Far East. Several FXX cars and three Formula 1 single-seaters were on track, all part of the past 15 years of Scuderia history: the F310, the model Michael Schumacher took to his first Grand Prix victory for Ferrari back in 1996 and the title winning F2003-GA and the F2004, which were world champions in 2003 and 2004, as used by Schumacher and Rubens Barrichello.