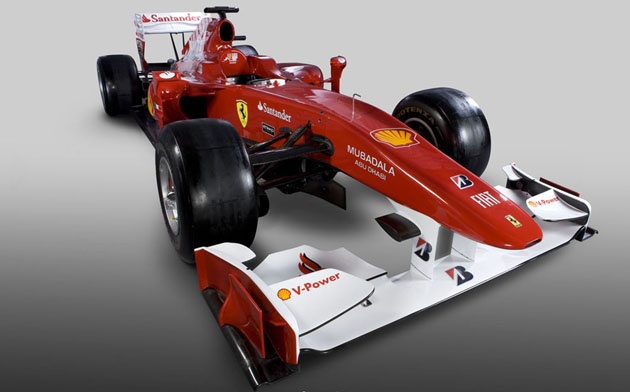 With nearly all the seats accounted for and the first group test at Valencia (scheduled for February 1) fast approaching, the time has come once again, boys and girls, for the unveiling of the 2010 F1 cars.
A couple of months ago, it looked like all the teams would get together under the auspices of the Formula One Teams Association to unveil their cars in one massive exposition concurrent with the Valencia test session, but that won't come to fruition. Several teams are expected to debut there still, while others are doing their own thing once again. And Ferrari is first among them.
Unveiled at the team's headquarters in Maranello, the new F10 is the chariot with which Fernando Alonso and Felipe Massa will be contending for the championship against other top-rated challengers from Mercedes GP, McLaren and Red Bull, to say nothing of the other ten teams on the grid. The latest Prancing Horse – whose Santander-dominated red and white livery we saw a few days ago – is the product of several months of development, as the Scuderia stopped development of last year's car half-way through the season after realizing it was way off pace and concentrated on this year's car instead.
You can have a look at the initial batch of photos in the gallery below, but don't expect to see much of the rear end of the car. Ferrari kept its diffuser design – of the double design that caused controversy last year but won't be banned until next – hidden from prying eyes for the time being. Stay tuned for the more as the teams roll out their latest.