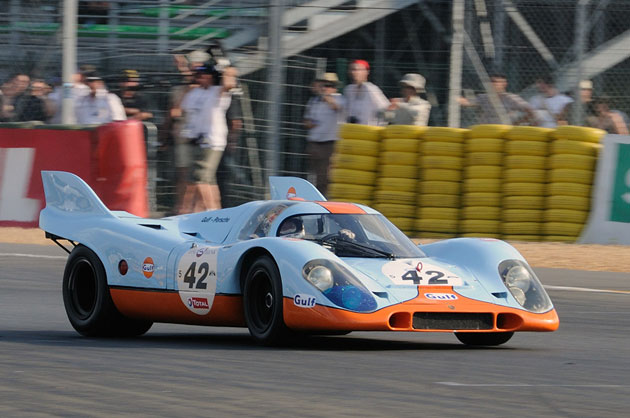 2010 Le Mans Classic 

Every two years in July, hundreds of vintage race cars gather at the famed Le Mans race circuit in France to fire up their engines and relive the glory days in the historic corners and long straights of the nearly 8.5-mile Circuit de la Sarthe. But that's just part of it. In addition to the priceless machinery racing on the track, thousands of other classic cars trek to the grounds to fill nearly every open spot at the huge venue. Ferrari News was invited by Porsche France to enjoy the 2010 Le Mans Classic in person, and needless to say, it was absolutely spectacular.
According to the organizers, this year's show welcomed 100,000 spectators, 8,000 display cars, 460 racing cars and 1,000 drivers. With sunny 95-degree temperatures over both days, the weather was unusually hot and the grounds chokingly dusty, but it didn't seem to keep anyone – or anything – from the event.
When not enjoying the racing, we strolled the show and stumbled over well-preserved classics from Jaguar, Aston Martin, Ferrari, Renault, Lamborghini, Audi, BMW and more. Porsche models were everywhere as the various European Porsche Car Clubs stormed the venue with more than 800 cars. Where else can you physically brush elbows with a race-ready BMW M1, a brand-new 2011 Ferrari 599 GTO and ride in the back of a historic war-era Willys Jeep all within the same 60 seconds? Le Mans Classic, baby. And these weren't sterile, stuck-behind-the-ropes museum stock, either – everything was meant to be driven and enjoyed.
We've put together a massive gallery offering just a taste of the caliber of vehicles on display, running hot laps and racing last weekend. While we've attempted to caption many of these, some still have us stumped. If you can identify a few of the nameless, give us a shout in the comments (with the photo number as seen in the URL) and we'll update the captions as quickly as our server's cache will let us.