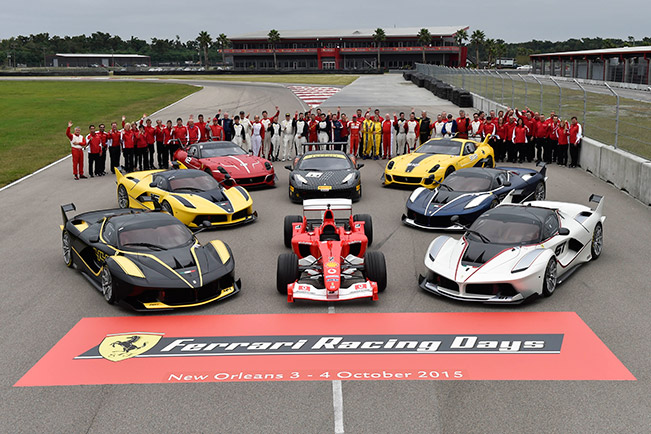 Ferrari Racing Days brought a new bound of Italian flavor to America's South, as the North American Ferrari Challenge, XX Programmes, and F1 Clienti, hit the track at NOLA Motorsports Park. Located just outside of New Orleans, Louisiana, the track played host to a stable of Prancing Horses, ranging from 561 horsepower to over 1,000.
Fab four. Not one, but four FXX Ks made their debut on U.S. soil this weekend. The car, derived from LaFerrari, withstands 1,050 hp, 860 from the V12 combustion engine and 190 from the hybrid (Kers) system. With nearly four hours of track time at NOLA, the Tifosi were enthralled by the roar it made. In addition, the FXX Ks were joined by two 599XXs on the 2.74-mile circuit.
Jewel from the past
A little piece of Ferrari history was showcased as the Formula 1 car F2003-GA of Rubens Barrichello hit the track. In fact, Marc Gené, Scuderia Ferrari test driver, marked the unofficial track record with a time of 1'15"9 on the Louisiana track. He beat the official record, owned by IndyCar driver Tony Kanaan by nearly three seconds.
Challenge
The weekend also marked the penultimate round for the North American Ferrari Challenge, before the drivers and 458 Challenge EVOs travel across the seas for the Finali Mondiali next month (November 5-8) in Mugello, Italy. Although a heavy wind and grey skies covered the track for a majority of the weekend, the racing proved to be excellent, with fierce competition. The three winners of the day were Ziad Ghandour, Anthony Imperato and Chris Cagnazzi.
The paddock
As for those strolling through the paddock, fans had a chance to engage with each of the teams and see for themselves what it takes to race in the longest running one-make series. The team trailers lined the paddock toward the Fan Zone, which hosted the podium celebrations as well as the full Ferrari range. The newest hard-top twin-turbo V8, the 488 Spider, was the highlight, and the star of everyone's photo.