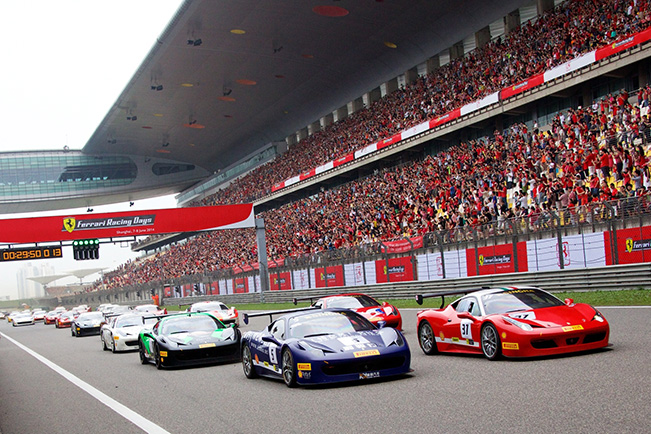 This weekend sees the Ferrari Racing Days make a welcome return to Shanghai, China after last year's highly successful outing. The Chinese Ferrari Racing Days are the largest Prancing Horse event in the entire area and tens of thousands of spectators are expected to throng the International Circuit for the occasion. In the course of the weekend, both public and Ferrari clients alike will have the opportunity to immerse themselves in the unique sporting spirit and passion that only the Prancing Horse can offer.
Star of the show. The Shanghai 2015 Ferrari Racing Days promise to be even more colourful and fun than last year. There will also be a very special guest in attendance, the latest car to emerge from the XX Programme, the stunning FXX-K. Unveiled at Abu Dhabi last December and based on the LaFerrari platform, the car is making its Greater China debut and will showcase the power and beauty of a magnificent 6262cc engine that, including the hybrid power, unleashes over 1,000 horses. Like the other XX Programme laboratory cars that preceded it, the FXX-K will be entrusted to a carefully-selected elite group of Ferrari clients whose feedback will be used by Maranello's technicians and engineers to develop the Prancing Horse sports cars of the very near future.
Other activities. The Shanghai weekend won't just be about the FXX-K, however: the new XX Programme car will be flanked not just by the FXX and the 599XX but many others besides. As always at a Ferrari Racing Days event, the spectators in the grandstands will also get the opportunity to witness a whole slew of Formula 1 cars in action, courtesy of the wonderful world of F1 Clienti. The latter department, in fact, cares for the single-seaters that have made both F1 and Ferrari history, and are now in the hands of a very special group of clients. The third round of the Ferrari Challenge Asia Pacific, the world's most popular, most successful one-make series, is also scheduled for this weekend at the Shanghai International Circuit. In the successful round held in Fuji last month, totally 24 cars and drivers from 11 different nations hit the track and finally three Chinese drivers claimed their spots on the podium. Renaldi Hutasoit from Indonesia leads the field with 69 points in Trofeo Pirelli classification. Xu Wei and Jin Xin, both from China, took the top of podium respectively in Trofeo Pirelli AM classification and Coppa Shell classification, indicating Ferrari is keeping driving its ultimate racing culture forward in China.
Source: Ferrari