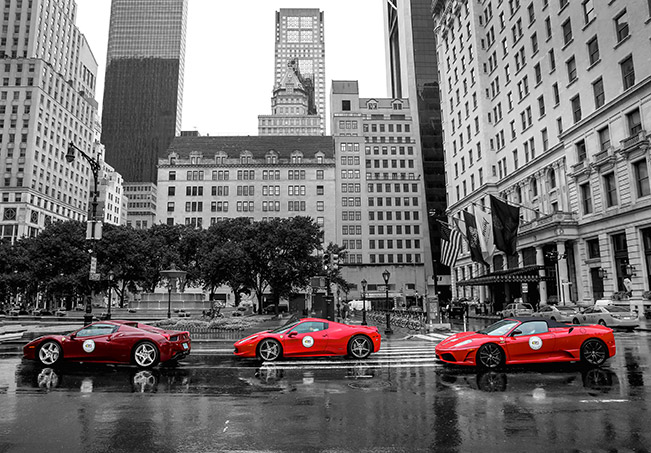 To celebrate Ferrari's 60th anniversary in the USA, Ferrari owners gathered over the weekend with their Prancing Horses for a rally from New York City's Battery Park to the first dealership still in operation as Miller Motorcars in Greenwich, Connecticut and ending a beautiful day's drive at the Bridge Club in Bridgehampton, New York. The ultra-exclusive golf club was built on the vestiges of the Bridge Race Track once frequented by Ferraris in the 1960s.
Included in the rally were the 250 GT SWB, 275 GTB, and 365 GTB Daytona, Superamerica, marking Ferrari's heritage from classic to current models, in particular, the most recent 458 Speciale and California T.
The rally began at sunrise in downtown Manhattan, passing by the city's most iconic landmarks, including the Freedom Tower, the Flatiron Building, Times Square, Columbus Circle and Central Park. The engines of 48 Ferraris roared through the New York City's concrete canyons and Connecticut's lush country roads to the delight of fans and passers-by along the route.
Source: Ferrari