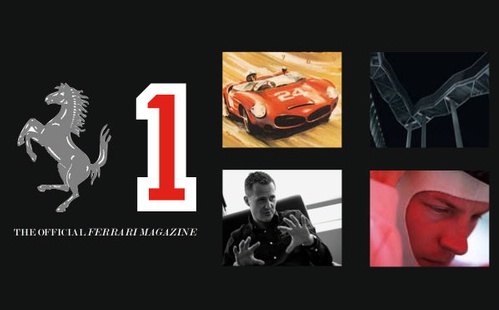 Ferrari has announced the publication of a English language only print magazine that will feature a variety of cars, racing culture, fashion and design seen from the point of view of the Ferrari world.
An interview in the first issue, puts Ferrari President and Fiat Group Chairman Luca di Montezemolo being interviewed by Michael Schumacher. Known for his outbursts when a GP doesn't go well, Schumacher asks Montezemolo, "President, how many TVs have you smashed on my account after watching F1?" to which Montezemolo replies "I'd say four" with Schumacher joking "It's a good thing you didn't send me the bill then…"
It will be published quarterly with each edition focusing on a particular theme such as language, colours and design. The fourth issue each year, published in December, will be extended to 280 pages and will replace the traditional Ferrari Yearbook for its friends and partners. The yearbook portion will look back on the past year: Formula 1 season, new models and, in the 2008 edition, Ferrari's Magic India Discovery tour.
To be published quarterly, the first 30,000 copies will be sent to Ferrari owners around the world, however, Ferrari has decided to make an additional batch of subscriptions available to enthusiasts for the price of 250 Euros per year. See press release below for contact info.