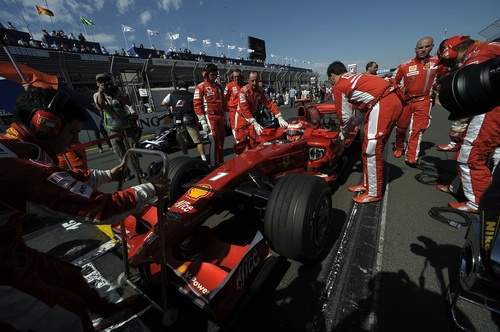 Ferrari's legendary bullet-proof cars appear to have exited stage left along with former Maranello golden boy Michael Schumacher. How else do you explain the events of Melbourne 2008? Paddock chitty chat has a different spin on things that may have caused Kimi Raikonnen a place in the podium.
Word is that F1's official ECU wasn't speaking the same language as Ferrari's software on race weekend, notwithstanding the fact that Ferrari set the pace at first practice on Friday. The 2008 ECU is manufactured by McLaren Electronic Systems, a division of the McLaren Group. Kimi's car ran hopelessly out of breath after this pace, relegating him to a final 6th spot during second practice. In qualifying he got ruled out of the remaining qualifying sessions even though he set the second fastest time in the first session, after failing to return his car to the pit-lane post a fuel pump problem.
"The issue was caused because of two conflicting procedures," a Ferrari spokesman said to GPWeek.
"This kind of thing can happen when you are working with one procedure that you do not know so well. Now we know that there is a conflict we can make sure it does not happen again. If you have a Macintosh and you use Windows software it can get stuck and you don't know why. "When that happens you reset your computer."
Had Ferrari not been running the same ECU with the very same software all along with no apparent issues?