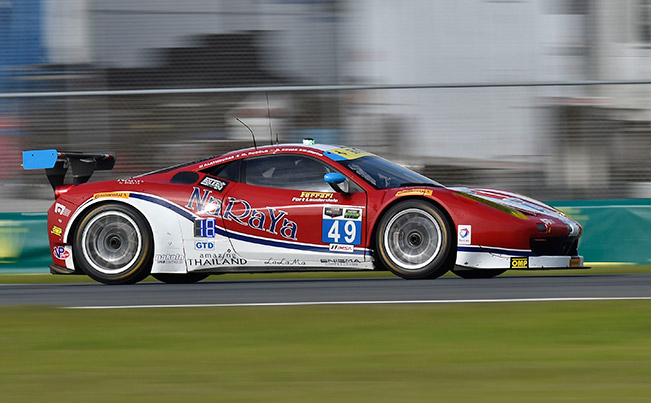 The five Ferrari 458 Italia entered in the 24 Hours at Daytona demonstrated the speed and competitiveness of the car in two classes. Both the two Ferraris in the GT-LeMans class and the three in the GT-Daytona class led their classes during the race, challenging for the lead from the drop of the green flag on Saturday afternoon.
Ferrari has demonstrated its competitiveness at Daytona throughout the race's history, with eleven class victories including last year's victory with the 458 Italia. On the strength of the performance throughout the 24 hours, Ferrari leads the Patron North American Endurance Cup manufacturer standings.
The best finishing of the Ferrari in this year's race was the no. 49 AF Corse Ferrari 458 Italia driven by Pasin Lathouras, Michele Rugolo, Rui Aguas and Matt Griffin which finished in fourth position in GT-Daytona.
Sixth in GT-Daytona was the no. 63 Scuderia Corsa Ferrari 458 Italia of Bill Sweedler, Townsend Bell, Anthony Lazzaro and Jeff Segal. The sister car, the no. 64 Scuderia Corsa Ferrari 458 Italia of Daniel Serra, Francisco Longo, Marcos Gomes and Andrea Bertolini retired after an incident during the morning. While running fourth, Longo encountered oil left on the circuit by another car, leading to the incident. Both Scuderia Corsa Ferraris led the GT-Daytona field throughout the race.
In the GT-LeMans class, both Ferraris also led the field before being forced to retire. Both the no. 62 Risi Competizione Ferrari 458 Italia of Giancarlo Fisichella, Pierre Kaffer, Davide Rigon and Olivier Beretta and the no. 51 AF Corse Ferrari 458 Italia of François Perrodo, Gianmaria Bruni, Toni Vilander, and Emmanuel Collard retired from the race during the night time hours.
The next round of the United SportsCar Championship will be the Twelve Hours of Sebring, held on March 21 at Sebring International Raceway in Sebring, Florida.
Source: Ferrari