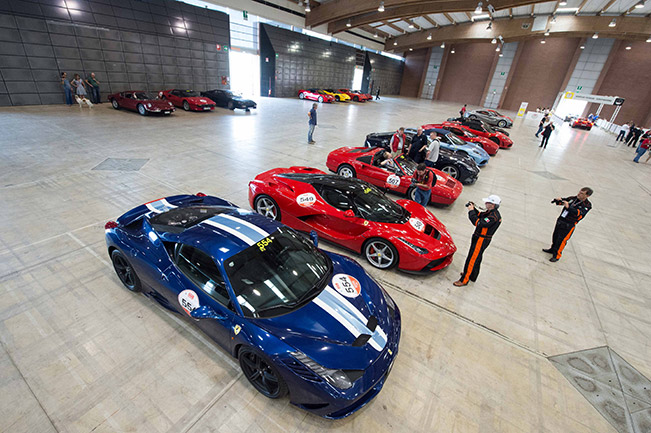 The peace and tranquillity of Lake Garda was shattered this morning by the exhilarating rumble and whine of sports car engines as the 2015 edition of the Ferrari Tribute to Mille Miglia officially got underway from  the town of Desenzano.
This year's Tribute to what Enzo Ferrari himself liked to describe as "the most beautiful race in the world" features 60 crews in a range of Ferraris spanning the spectrum from the very latest models to those built in the second half of the 1950s.  All will be tackling the traditional 1,600-kilometre to Rome and back, which takes in some of Italy's most scenic roads, before crossing the finish-line in Brescia on Sunday morning next.
To reflect the spirit of the historic car race, all of the Ferraristi entered in the event will compete in a regularity trial. The latter's final standings are split into different categories for cars of different types and ages.
Today's stage concludes at Riccione where the cars are scheduled to arrive this evening.
The www.Ferrari.com site and Ferrari social networks will also be tracking the progress of the Tribute with exclusive daily updates, images and videos. A truly unmissable event for Prancing Horse's enthusiasts of all kinds.
Source: Ferrari