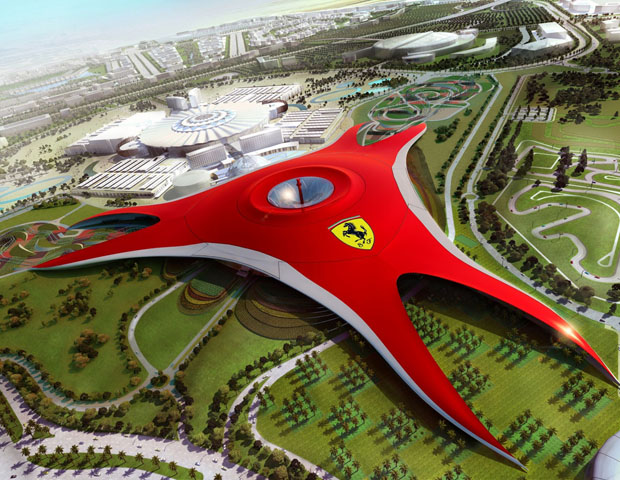 Television coverage of Formula One grands prix typically end with an aerial shot of the podium and the fans beneath it, a panorama usually dominated by the tifosi passing a giant Scuderia Ferrari flag over the crowd. That view may have been largely absent with the void of Ferrari victories this season, but if you were watching the Abu Dhabi Grand Prix this past weekend you might have noticed something even bigger: the site of Ferrari World, the new theme park being constructed adjacent to the marina circuit on Yas Island.
The park can easily be picked out from the air, housed in a giant red roof that sports a 200-foot-tall Ferrari logo, the largest ever made. With doors set to open in the new year, details are now being released while work is underway on the attractions that will be included in the 200,000 square meters (over two million square feet) of indoor space dedicated to the park.
Among the 20+ rides that will be housed in the largest indoor park on earth will be the world's fastest roller coaster, a g-force drop tower breaching the 150-foot-high red steel roof to extend over 200 feet into the sky, racing simulators, karting and a flume ride through a giant Ferrari engine.