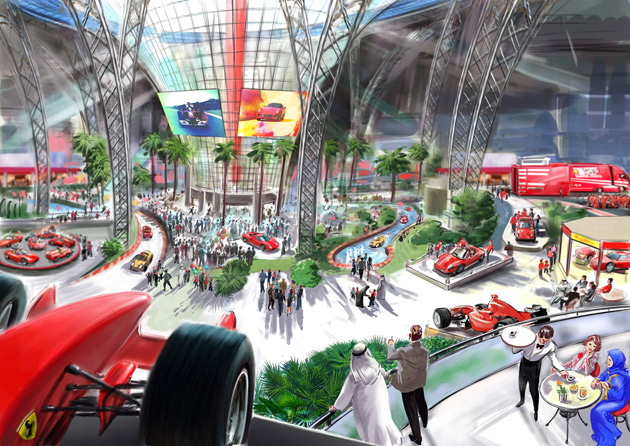 Abu Dhabi's Ferrari World
The world's first one-make auto theme park has officially dished the goods on what we can expect behind its walls. According to the powers that be in Maranello, Abu Dhabi's Ferrari World amusement park will boast a passel of attractions designed to turn just about anyone into a fan of the Prancing Horse. You've likely already heard all about the Fiorano GT Challenge by now – the roller coaster that pits two F430 cars against each other on parallel tracks, but rides like the G-Force are news to us. Think of it as a typical tower ride designed to replicate the g forces that an Enzo can produce under acceleration. Supposedly the ride even comes stocked with seats modeled after the thrones in the supercar.
Visitors will find a stash of other Italian-flavored takes on the typical theme-park fair, including a log-flume type ride that allows riders to experience the thrill of going through a V12 engine. That sounds fun and all, but we're more interested in an exhibit that the company is calling "Galleria Ferrari." Think of it as a walk through the pages of Ferrari history, one classic model at the time. Ferrari says that the galleria is the largest collection of Ferrari models outside of Maranello, Sign us up. Feel free to click past the jump for the full list of attractions after checking out the high-res gallery below.