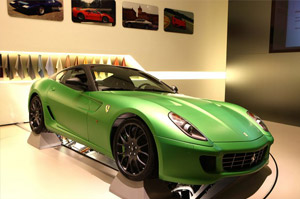 Patent applications reveal that Ferrari is developing a hybrid system that's far more conventional than what has been speculated. Just last month, Ferrari chief Amedeo Felisa told reporters that the company is working on hybrid technology for its V-12 cars and that a V-6 is a possibility. Notably, a very exciting V-6 was used for the Dino, Ferrari's first mid-engine sports car. However, a hybrid Fazza isn't a sure thing yet. At the 2010 Geneva auto show, Ferrari displayed a hybrid 599 concept that was powered by a V-12 engine and a Formula 1–inspired KERS hybrid system. The majority of hybrid gas-electric systems in automobiles recover kinetic energy in some way but KERS (Kinetic Energy Recover System) usually describes a system that uses the vehicle's brakes to spool up a flywheel.
And in turn, this flywheel holds the energy for a brief period until the driver seeks a short burst of extra power. There's typically no battery or transistor. Aside from Ferrari, the other companies that experimented with KERS hybrid systems include Porsche and Volvo. Ferrari's patent seems to use a more conventional, non-KERS hybrid setup. It lists both a battery and a supercapacitor as methods of energy storage. It uses two electric motors. One handles the propulsion duties while the other feeds the ancillary systems such as air conditioning, power steering, etc.
Since it uses a second motor, it means that all of those auxiliary systems don't take away torque from the internal-combustion engine when accelerating. This results to a system that's very efficient as it doesn't have to give up performance. For this patent application, Ferrari filed several diagrams. A few of these show the main electric motor in the engine's V valley while others have it in the rear of the car with the transaxle. The patent application talks about the system as being placed in a car with a front-mounted, 90-degree engine. This implies that Ferrari is referring to the California since the V-12 cars have a 65-degree engine-bank angle. This plan is flexible though as it's believed to fit in twelve-cylinder Ferraris too.