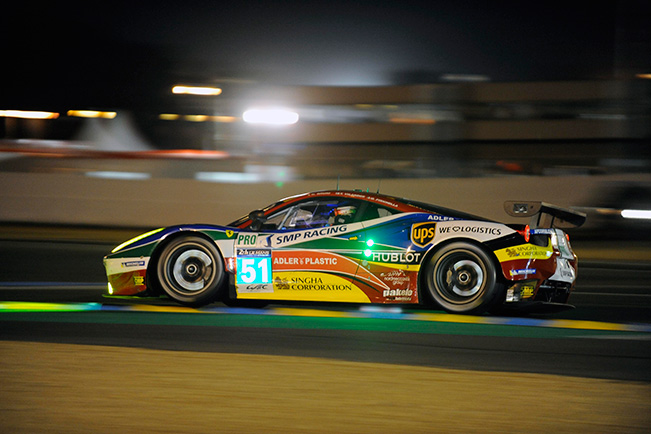 More than two months after the Le Mans 24 Hours, the World Endurance Championship (WEC) is revving up for the Nurburgring, the only new race on this season's calendar. However, this track is well known to everyone (world champion Toni Vilander, teammate of "Gimmi" Bruni in the AF Corse team Ferrari, presents the circuit in this video) because it is a great motorsport classic. Races cannot be held on the legendary 20 km plus Nordschleife for safety reasons, but the short version of the German track promises thrills and entertainment.
GTE-Pro.  As usual two Ferraris will be competing in the GTE-Pro class, both entered by the AF Corse team. World champions "Gimmi" Bruni and Toni Vilander will be alternating in car no. 51, after teaming up with Giancarlo Fisichella at Le Mans, while Davide Rigon and James Calado will be in no. 71, fresh from second at the 24 hours, and without the addition of Olivier Beretta. Bruni and Vilander currently top the standings with a third place in the Sarthe marathon and a win in the first race of the season at Silverstone.
GTE-Am. In the GTE-Am class all eyes will be on the victors at the Le Mans 24 Hours: Andrea Bertolini, Victor Shaytar and Andrey Basov, crew of the 458 Italia no. 72 of SMP Racing. The winners of the famous French endurance race will be facing a battle hardened group of opponents, starting with fellow Ferrari drivers François Perrodo, Emmanuel Collard and Rui Aguas in the AF Corse car no. 83. We should also keep an eye on the crew of the Aston Martin no. 98, Paul Dalla Lana, Mathias Lauda and Pedro Lamy, who will certainly want to make up for Le Mans where they crashed while leading less than an hour from the finish. This car has won the two six-hour races held so far this season.
History. As mentioned, the Nurburgring track is a new entry to the World Championship but is a great classic where some historic GT World Championship races have taken place. Ferrari has won 19 times on the Nordschleife but is still chasing its first world championship win on the short circuit. Its first success on the old track came in 1953, the first world championship season, with Alberto Ascari and Giuseppe Farina in the works375 MM Vignale Spyder. The last one came in 1973 with the works 312 PB of Jacky Ickx and Brian Redman. Qualifying takes place on Saturday at 2pm while Sunday's race will start at 1pm. Real-time updates will be available on @FerrariRacing while the last hour of the race will be broadcast live on the Eurosport tv channel.
Source: Ferrari