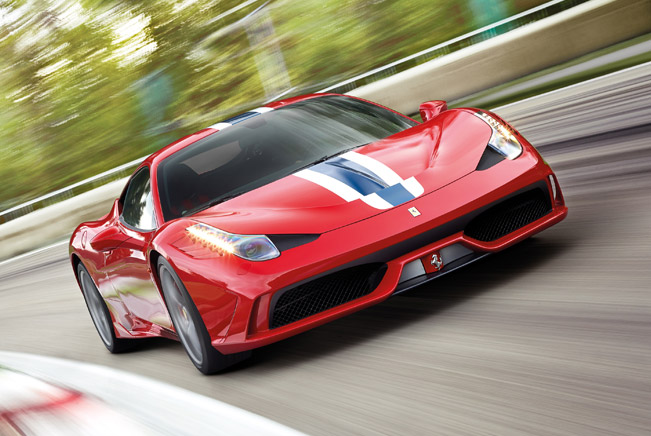 Ferrari 458 Speciale is "Supercar of the Year 2013" named by the Middle Eastern magazine, Evo.
"It's not a surprise: we expected the 458 Speciale to be incredible, given the expectation prior to its presentation," commented Bassam Kronfil, the magazine's editor.
"But it was only when we were able to drive it that we realised the car truly exceeded our expectations. Ferrari has made the 458 Italia even better than before in terms of how it drives, which is no mean feat! Quick, involving and with that incredible howl from the Ferrari V8, the Speciale is the acme of the best Italian sports cars in terms of passion and technology.", he added.
The 458 Speciale is powered by an upgraded 4.5 liter naturally aspirated V8 engine – 605HP (445 kW) and 540Nm (398 lb-ft) of torque. This is an increase of 35HP over the normal version. What is more, it has the most specific power 135HP / liter in the history of the Ferrari road going V8. It also boasts an amazing power to weight ratio 2.13 kg / HP. The engine is mated to an improved dual-clutch transmission. 0-100 km/h in 3.0 seconds and a top speed of over 330 km/h (205 mph). A lap around Fiorano in 1 minute and 23.5 seconds.
2013 Ferrari 458 Speciale has an aerodynamic efficiency index E of 1.5m and has electronic control for the set-up angle (SSC.) These are some, not all of the characteristics that make this car really special and which are destined to become a standard for the Ferrari's of the future.