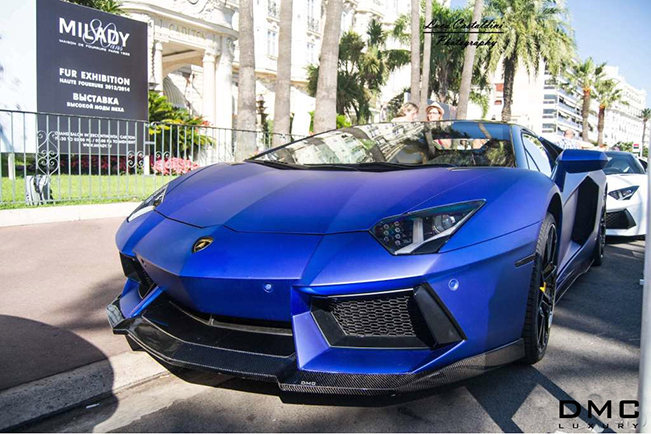 DMC Luxury is proud to announce that they are the first Refiner world-wide to modify an Aventador Roadster. Lamborghini owners that seek to strenghten their Bull from St'Agata, already have DMC on their wish-list, but this latest coup underlines the strong market position the Germans have built in the past 18 months. One of the most stunning packages this year, the MOLTO VELOCE Styling and Perfomance Kit for the LP700 Aventador, looks even better on a Lamborghini Roadster. The car of honour, a matte blue MV, flew all the way from Qatar to Marbella Spain, and made a surprising entrance that nobody expected.
You maybe alreadt familiar with the specs, but we're glad to introduce them again: On the visible side, DMC created a styling kit that stays in line with the original design: A unique expressive front fascia features a redesigned spoiler sword and a stunning front-splitter lip, all made of pure carbon fiber. They fit onto the stock-bumper, installation is very swift. The new side skirt diffusers aim to improve the overall aerodynamics as well by bringing road stability.
A new rear fascia consists of a lightened carbon fiber diffusor and an added tunnel system: Both items improve down force on the rear axle. It is completed by a rear wing spoiler that supports aerodynamics on the rear axle. All items can be installed without visibly damaging the Aventador since they either exchange for the OEM parts, or conveniently add-on, which guarantees that the car can be brought back to its original state of art, at any time.
Performance wise, DMC has a sporty modification in petto: While traditional Lamborghini design features combined overhead throttle valves per cylinder bank, DMC has decided to use 12 unique single intake throttle plates, one per each cylinder. Gasoline pumps and – lines, as well as pressure modulators and injection nozzles will be replaced by own new components. Optimized engine electronics, an electronic load pressure control system and a completely new wiring will be added. The engine will be rebranded as LP900. The power-mod is supported by a brand new Titanium Exhaust system, which weighs only a 1/10 of it's original weight. Counting only 3.45 KG, compared with the 34 KG stock exhaust was only possibly by using the high-tech Titanium, a material also used in space-ships.
All body components can be installed by one of DMC 's global dealers, located globally in North America, Asia and the Middle East. If you opt for the engine modification however, it would be highly suggested to fly your LP700 to the company's workshop in Germany or Switzerland.
Source: DMC Luxury