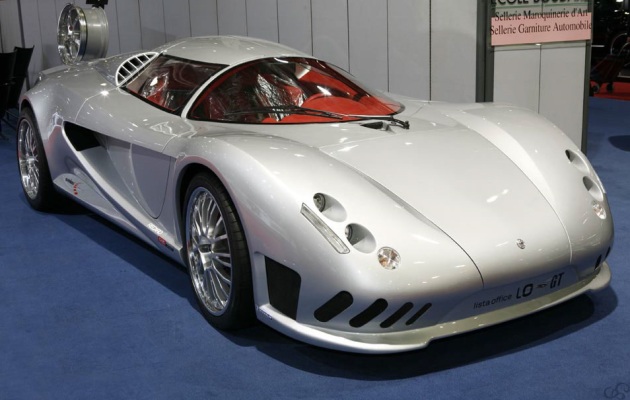 If you thought that last remaining piece of lasagna at the food court looked iffy, remember that's not even the most suspicious concoction to bear the Sbarro banner. Franco Sbarro rivals even his fellow Swiss coachbuilder Rinspeed for his, um… "originality." Recent examples have included a six-wheeled Citroen crossover, a leaning quadricycle and a vintage Rolls-Royce equipped especially for bird-watching. But as bizarre and unusual as most of Franco Sbarro's creations have been, the Swiss designer also has a long history in radically modifying Ferraris.
Based on the 308 GTB, the Super 8 made our Top 10 Mid-Engined Hatchbacks list, but that's just the tip of the proverbial iceberg. Sbarro's done everything from converting a 365 GT4 into a Mille Miglia spyder to giving the 550 Maranello the wide-body treatment. Among the most intriguing of his projects, though, has been the Alcador series. The first Alcador, based on the Testarossa, debuted at the 1995 Geneva salon. The second, called the Alcador GTB, came a baker's-dozen years later at the 2008 Geneva show, borrowing its chassis and engine from the 348. Sbarro tweaked the design and came back to the Palexpo the following year with a new Alcador GTB based on the 360 Modena.
Now, a Swiss collector by the name of Lienhard has commissioned the coachbuilder to craft him another example, and the result was unveiled to the public this past weekend at the Essen tuner expo in Germany. Strangely called the Lista Office, Sbarro's latest is underpinned once again by the 80s-era Testarossa, packing its 450hp 5-liter boxer 12. Say what you will about the styling, but one thing's for sure: it doesn't look anything like a 512TR.