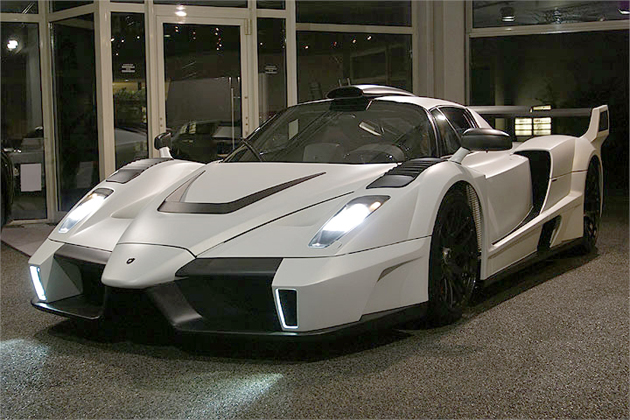 Ferrari Enzo MIG-UI by Gemballa — Click above for image gallery
The black and white menace you see above was created for Gemballa's Middle East distributor, the Illyas and Mustafa Galadari Group, using Mustafa's personal Enzo as the subject. The roof scoop, jet-thruster-surrounds for the exhaust, and black rims are Gemballa hallmarks, on top of which the nose has been slightly sculpted and the hood sports a central scoop.
The widebody treatment has given Gemballa room to add new elements, like the vents up front and behind the wheels, the gills on the fenders, and stolen-from-a-Subie rear wing. Other Enzo features, like the side vents, have merely been massaged. The paint scheme, a far cry from the Middle East's de rigueur gold or chrome, is nothing short of arresting — make of that what you will. We don't mind it.
The inside is rather subdued, comparatively speaking: black and quilted red leather, trimmed in red stitching and piping. We don't know anything else about the car at the moment — seems the proud owners are holding back until it's officially rolled out, debutante style, to a waiting Dubai public. If anyone makes it to the unveiling, please let us know if it comes with a set of Imperial armor and an E-11 blaster…