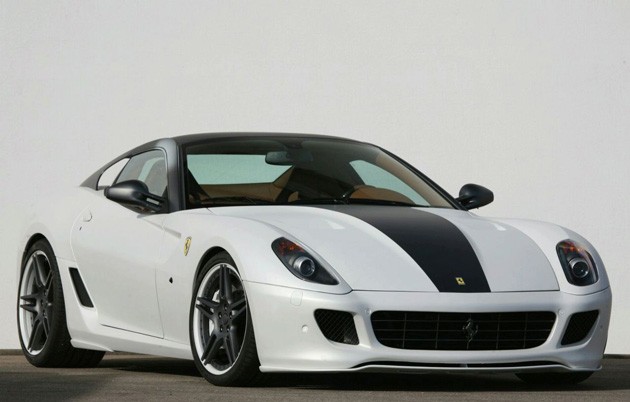 Novitec Rosso always goes big at the Geneva Motor Show, and this year won't be any different with the introduction of the 848 RACE, a twin-supercharged version of the Ferrari 599 GTB Fiorano.
As its name would imply, those two blowers, combined with a set of water-to-air intercoolers, a new exhaust and an ECU tune, are good for 848 horsepower at 7,900 rpm and 621 pound-feet of torque at 6,300 rpm, allowing the matte white and grey supercoupe to run to 60 mph in 3.4 seconds, hit 186 mph in 23.7 seconds and on to a top speed of 214 mph flat out.
In addition to the new 20-inch wheels in front and 21-inch hoops in the rear, upgraded Brembo brakes and an adjustable sports suspension that can lift the front of the 599 by 40 mm, aluminum and carbon fiber accents swath the inside, along with an upgraded flat-bottom steering wheel with a switch that opens an additional baffle in the exhaust. Novitec hasn't released full pricing on the upgrades, but for this kind of custom kit, we'd expect the 848 RACE to command a $200k premium over the base 599.