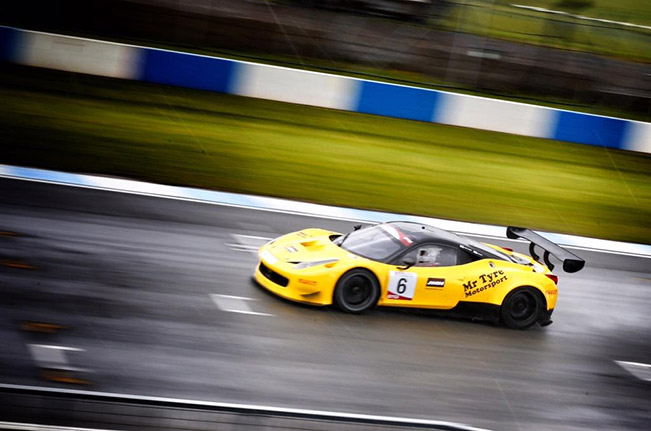 Brands Hatch delivered a very intense and exciting weekend of racing for round two of the British GT Cup Championship with Ferraris delivering three victories in three different races: one in the main GTO class and two in the GTC category.
Race 1
The Ferrari client teams took one victory and four podium positions in all in the first race of the weekend on Saturday. The overall winners were Paul Bailey and Andy Schulz in the Aston Martin of Horsepower Racing/TF Sport. That said, the British car was flanked on the podium by two 458 Italias. JMH Automotive drivers Arwyn Williams and Aaron Scott's no. 6 Ferrari crossed the finish-line 12 seconds behind the winner while FF Corse's no. 18 car driven by Darren Nelson and Nigel Greensall was third. There was an all-Ferrari podium in the GTC class, however, with FF Corse's drivers doing battle for the honours. In the event, John Seale and James Stanley's no. 55 458 Italia won ahead of Ivor Dunbar and Johnny Mowlem's no. 21 and Wayne Marrs and Charlie Hollings' no 60.
Race 2
Two races took place on Sunday. The first was won once again by Bailey-Shulz who crossed the line ahead of Phil Burgan's United Autosports Audi with Nelson-Greensall's Ferrari  delivering its second consecutive third-step also. The GTC class delivered another all-Ferrari podium too. This time Marrs-Hollings' FF Corse no. 60 Ferrari held sway finishing in front of Race 1 winners Seale-Stanley  and Marcus Hogarth's Ebor GT/Hogarth Racing car.
Race 3
The final race of the weekend really delivered the goods, however.  Brilliantly prepared by JMH Automotive, Arwyn Williams and Aaron Scott's Ferrari dominated the action finishing more than 15 seconds in front of the Aston Martin of Bailey-Schulz and the no. 18 FF Corse 458 Italia GTO of Nelson-Greensall, which once again finished third. On the only occasion in the weekend that a Ferrari won in the GTO class, the Prancing Horse also lost out on a triple in the GTC class with victory going to the Staffs Racing Lotus of Kevin Riley and Gareth Downing. That said, there was a Ferrari on either side of it on the podium: Marrs-Hollings' no. 60 and Dunbar-Mowlem's no. 21, both fielded by FF Corse in second and third respectively.
Championship
The Championship's overall standings are topped by Ferraristi Seale-Stanley on 91 points, four ahead of  Aston Martin duo Bailey-Schulz and BMW pair Mick Mercer and Gary Smith. In the GTO class, Bailey-Schultz have a 3-point lead over Ferrari men Williams-Scott and 32 over FF Corse driver Darren Nelson. Ferrari dominates the GTC, however: Seale-Stanley hold a 7-point advantage on team-mates Marrs-Hollings and are 10 ahead of Marcus Hogarth. The next round takes place on May 23 and 24 at Rockingham.
Source: Ferrari