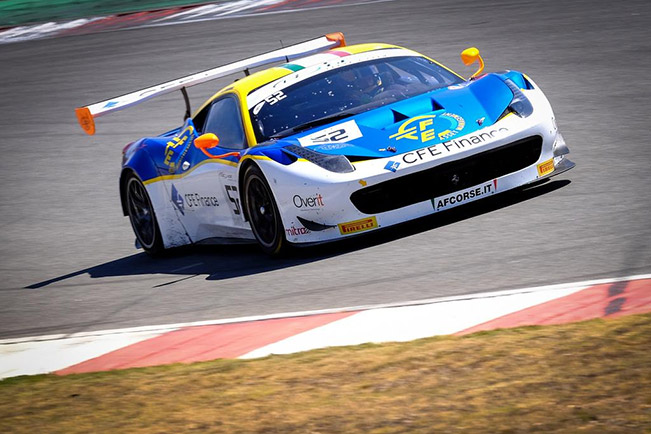 Total domination of the Ferrari customers teams in the third and second to last event of the GT Sports Club championship, held yesterday at the Autodromo Internacional do Algarve, in Portimao. In fact, the 458 Italia monopolised the podium in the overall race as well as in the Iron Cup category.
The race. The decisive win went to Mario Cordoni who, on the 458 Italia GT3 of the AF Corse team, finished over seven seconds ahead of the driver of the Kessel Racing team Massimiliano Bianchi and over 18 seconds ahead of the French Cedric Mezard, at the wheel of the 458 Italia of Scuderia Villorba Corse. A Ferrari trio also occupied the podium in the Iron Cup: Martin Lanting on car number 48 of the AF Corse team took first place. The Kessel Racing team took another second place with Stephen Earle and another car of AF Corse, the number 53 driven by Louis Philippe Sorensen completed the podium.
Championship The competition is still open in the two championship standings. Bianchi's second place allowed the Italian driver to overtake Mezard by two points, while Cordoni's win places him in third place in the standings, 20 points behind the leader. It is not easy to think of winning the title, but in Misano, during the first week of October, 33 points will be up for grabs and everything is possible. In the Iron Cup, Martin Lanting gained in the standings over Sorensen, his immediate pursuer with 63 points.
Source: Ferrari