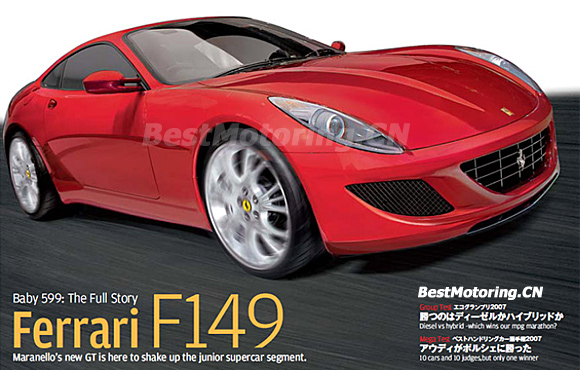 In just a few weeks Ferrari will release the first official photos of the new F149/California GT. Two weeks ago the large dealeraships and well-fortuned customers already had a sneak preview. And we received more details now.
The Ferrari F149 or California GT will be introduced at the Paris Motor Show this year. But in two weeks time Ferrari will release the first official photos. The new Ferrari will look like a small 599 and at the sneak preview some specifications were released. So this is what we received in our mailbox.
– A brandnew Ferrari 4.7 liter engine with 480/500 bhp, so not based on (or a regeneration of) any current engine.
– Seven speed ultra quick gearbox.
– 0-100 km/h in less than four seconds.
– Topspeed is kept under F430.
– Ceramic brakes are standard.
– There is a long list of options available.
– Double clutch-system.
– Direct fuel injection.
– Foldaway metal roof.
– The latest Becker TOUCH satellite navigation.
– Bluetooth, Ipod and USB-Stick connections integrated
It sounds very exiting, but we still have to wait for the official information and photos.
Online internet marketing or online advertising can help you promote your business. To build your online internet marketing strategies, you need a professional website design and proper web site hosting package. You can download web development software related to your requirements.