Whether you regularly tow a caravan, pull a trailer, or you want a simple and convenient means of fitting bike racks and other additional items to your, you can get a tow bar fitted that will help extend the benefits of your chosen vehicle. It is possible to fit a towbar to most vehicles although you should check the power of your vehicle is enough to tow or pull the item that you wish. Larger vehicles can easily cope even with caravans but a smaller vehicle may struggle even with a trailer.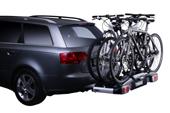 If you are not experienced at fitting towbars then you should consider using a tow bar specialist to do the work for you. If your caravan or trailer comes untethered while driving it will not only cause damage but it could potentially lead to injury to you and other road users. You may even find that you face prosecution for not securing the towbar properly; not a great way to start or end a family holiday!
Having a tow bar fitted professionally means that it will be secured properly. When you do tow a vehicle or trailer this is especially important. Not only does it ensure that you and everybody around you are safe but it also gives you peace of mind when you are driving down the motorway, country lanes, and other routes.
A tow bar is most commonly used for attaching things like trailers and caravans to the back of your vehicle and towing them quickly and easily. However, there are other possible uses. Tow bar mounted bike racks, for example, are especially useful if you regularly need to transport bikes. They fit easily and securely, and there is a good range of racks so that you can find the one that best suits your needs and your car.
If you want to tow a caravan or trailer, or you want to fit certain types of bike rack then you will need to get a tow bar fitted to your car. Choose the right tow bar and consider having it professionally fitted to be sure that you are safe and your vehicle secure.