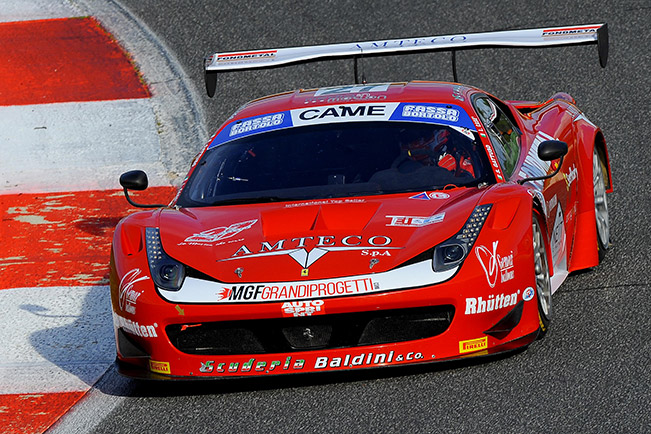 Following the great debut in Vallelunga, the Italian GT Championship will make it to the track this weekend in Monza for the second round of the season with five more lineups joined increasing the number of cars on track in the two races of GT3 and GT Cup to 40. The Ferraris 458 Italia will be the cars to beat in the highest class, starting from the Scuderia Baldini 27 one that is leading the standings with Casè-Gattuso, but a lot of other cars from Maranello are in the top half of the classification. Among these, the car driven by Schirò and Berton (Scuderia Villorba Corse), Frassineti-Beretta of Ombra Racing, the team that will field another car for Cipriani-Tedeschi, Di Amato-Mugelli (MP1 Corse), Magli-Ferrara (Easy Race), and those of Team Malucelli driven by Bontempelli-Gai and Galassi-Rizzuto.
GT Cup. Some new arrivals also in GT Cup, as Ivan Capelli and Marco Coldani will make their debut of the season on the Ferrari 458 Italia of Team Pellin, and the lineup "David Gadri"-Caccia, alongside the other drivers on Ferrari, Del Prete-Caso (Scuderia Victoria) and Renato Di Amato (Sport Made in Italy), will try to slide in the fight between Porsche and Lamborghini that characterized the first two races held in Vallelunga.
Program. The Monza weekend schedules two qualifying sessions on Saturday (from local 10,15 to 11,15) as race-1 will follow at 18,55 and race two will be on Sunday at 15,30. Both races will be run on 48 minutes + 1lap and will be streamed live on www.acisportitalia.it/GT.
Source: Ferrari