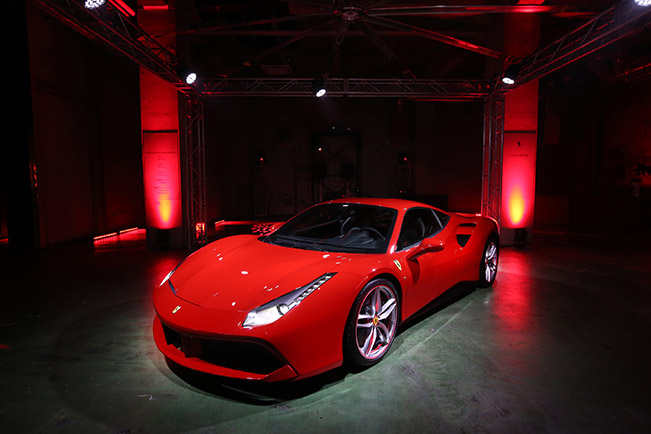 The Ferrari 488 GTB has officially made its debut in Tokyo, the very first appearance in Japan following the International Motor Show of Geneva in March. Close to 400 passionate VIP guests attended the Japanese Premiere held in  an exclusive location along the waterway in Tokyo.
Situated in a very unusual location in the Isle of Tennozu in Tokyo, Ferrari guests were delighted to see the ordinary concrete warehouse completely transformed into the world of the Prancing Horse with red laser beams epitomizing the pulse of the Ferrari 488 GTB, the star of the evening.
Coloured in the new beautiful Rosso Corsa Metalizzato, the Ferrari 488 GTB stood beautifully while guests enjoyed the stylish music and an exceptional performance by professional fencers demonstrating the art of fencing, a sport that represents extreme power and thrill, very much like the iconic 8 cylinder berlinetta.
The Ferrari 488 GTB sets a new benchmark for the sports car sector. Forty years from the launch of Ferrari's iconic first-ever mid-rear-engined V8 berlinetta, the 308, the Ferrari 488 GTB opens a new chapter in the history of cars with this particular architecture which delivers optimal weight distribution for sporty, fun driving. A special gallery was created in the exclusive venue for this event,  showcasing the great history  behind the car, together with a display of the historic 308 GTB.
"We are very excited to have the premiere of this latest V8 model with our important guests. Japan is the key market in the Far East region for Ferrari, with its long history and strong appreciation for sports cars, particularly of the 8-cylinder cars. The technology, power and style of this new car will ensure another glorious future of the sports berlinetta." commented Dieter Knechtel, Managing Director of Ferrari Far East.
The 488 in the car's moniker indicates the engine's unitary displacement, while the GTB stands for Gran Turismo Berlinetta, a reference to its deep roots in Ferrari history.
Source: Ferrari