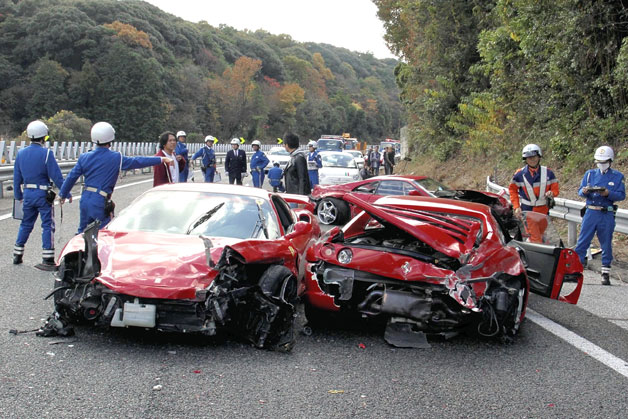 This is going to be painful, so we'll break it down quickly. Trust us, it will be like pulling off a Band-Aid.
[translated from Japanese]
"So, want to caravan to the car show? I'm excited to drive my Ferrari F355 there."
"Sure. I will be driving my Lamborghini. Let me call my six other friends who also own Ferraris."
"If other marques are welcome, I will invite my two friends who drive Mercedes-Benzes."
Crash!
[sounds of crying]
In all seriousness, we were glad to learn that nobody was seriously injured in the wreck. According to the Associated Press, a group of car enthusiasts were on their way to a driver's gathering in Hiroshima when one Ferrari swerved into the median barrier, likely pinballing into the other cars. Police said a total of 14 cars were caught in the wreck, including eight Ferraris, two Lambos, and a trio of Mercs. The AP report says total damage is likely over $1 million.