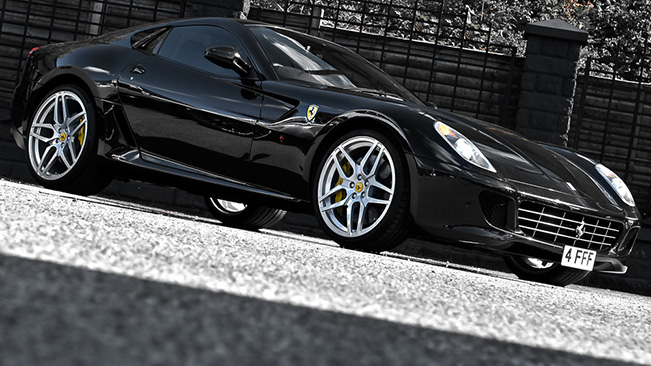 It is difficult to discuss a Ferrari 599 GTB Fiorano F1 without a twinge of reverential melancholy. In some cases, blind praise for all things red and Italian has been misplaced, but in other ones, the superlatives and hyperbole are well-deserved. That said, Afzal Kahn's latest expression of motoring excellence, the Kahn Ferrari 599 GTB Fiorano is extraordinary.
Shrouded in voluptuous nero daytona couture, attracting everything and everybody around it like a magnet, the Afzal Kahn touch comes complete with front and rear sections, ceramic brakes, wing shields, upgraded F1 gearbox and yellow brake calipers ensure that this vehicle is aerodynamically unique.Inside is the 'bespoke touch', this particular vehicle comes with nero Daytona leather electric sports seats. However, we provide our customers with the opportunity to express one's individuality. And they can have whatever they want. We could, for example, design for you a vehicle with an exterior the colour of your shirt and an interior to match the colours of your favourite sports team or your business, complete with the a crest or emblem incised within the car seats, the choice is yours.
Kahn wheels sit perfectly, on any vehicle, conveying the essence of the vehicle's identity. Created using state-of-the art manufacturing and materials forged technology, the 9×21″ front and 12×22 Monza forged wheels finished in the colour of your choice fit all original centre caps.
With simple clean lines, soft organic surfaces on the edge of the spoke and a purposeful mechanical centre, Kahn wheels are synonymous with elegance and innovation.
A. Kahn Design is for the individual who will not submit to a life of uniformity and who will only accept perfection. Dedicated to the creation of luxury bespoke vehicles, we redesign the ordered monotony of mass produced vehicles and rebuild them into individually tailored creations.