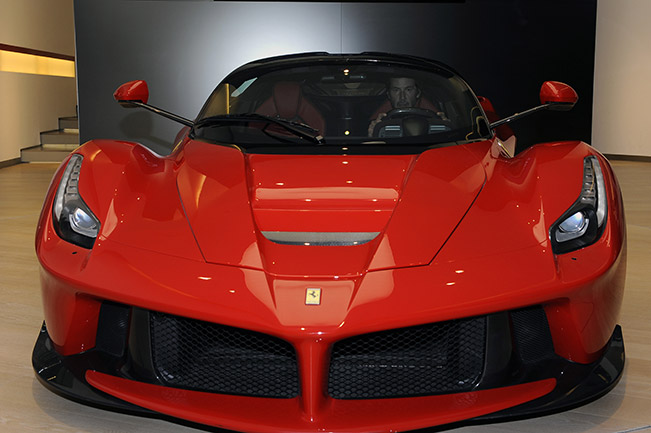 Fiorano, the assembly lines, the Tailor Made atelier, the Classiche Department, the New GES building…Keanu Reeves insisted on seeing them all when he was our special guest for a day here at Maranello. The American star of classic films of the likes of the Matrix, Speed, Point Break and Little Buddha, has an innate passion for speed, particularly of the two-wheeled variety.  However, he also proved he is pretty skilled behind the wheel when he test-drove the Prancing Horse's newest arrival , the Ferrari 488 GTB, at Fiorano. "It's a car you instantly feel an incredibly synergy with," he declared. "It's like it's tailored around you, an extension of your body and your mind. There's no doubt about it: Ferrari is the dream…."
Keanu also spent some time in the New Mechanical Machining Area where he was fascinated by the engine production process, and in the Tailor Made atelier, where he got a first-hand impression of the truly endless quantity and spectacular quality of the materials available for personalisations. He then visited the 8-cylinder production lines where he happily posed for photographs with the staff.
When the actor toured the Classiche department in the second part of the afternoon, he fell in love with two just-restored cars: a Ferrari 500 Mondial and a one-off single-seater built in the 1950s for the legendary Indy 500.  "You can really feel how the values of the past are being passed down here. They're a legacy that deserves to be carefully preserved and that's just what you're doing here by keeping the designs and plans for every single model in your incredible archive," he said.
Last but not least, after admiring the LaFerrari on display in the atelier and the F1 Clienti single-seaters, particularly the ones driven by Michael Schumacher of whom he is a huge fan, Keanu took a spin in the California T: a very fitting end to a fantastic day for a Hollywood star.
Source: Ferrari