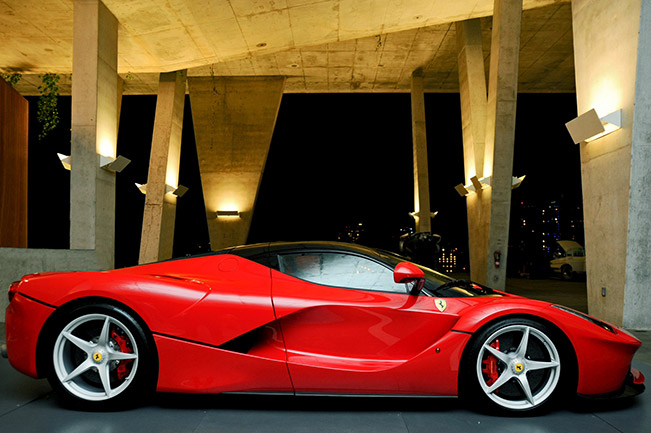 When art meets the world of the automobile, Ferrari always plays a leading role. That was confirmed at a show being staged over these past few days in Miami, at the annual Art Basel Miami exhibition, one of the most important events on the international cultural and artistic calendar.
On the top floor of 1111 Lincoln Road, the studio of Herzog & de Meuron architects has been transformed into an open car park featuring cars turned into sculptures by great modern and contemporary artists from around the world, including Damien Hirst, Keith Haring, Cesar and Kenny Scharf. The show, called "Piston Head: Artists Engage the Automobile" not only has the patronage of Ferrari, but among the masterpieces is one that encapsulates the quintessential characteristics that make the Maranello marque unique in the world – technical innovation, performance, futuristic style, the thrill of driving that comes from its creations – which to say it all in a single word, is LaFerrari.
The show was open until 8 December and included works from the following artists, Ron Arad, Bruce High Quality Foundation, Cesar, Dan Colen and Nate Lowman, Keith Haring, Damien Hirst, Virginia Overton, Olivier Mosset/Jacob Kassay/Servane Mary, Richard Phillips, Richard Prince, Tom Sachs, Salvatore Scarpitta, Kenny Scharf, Franz West.
Source: Ferrari