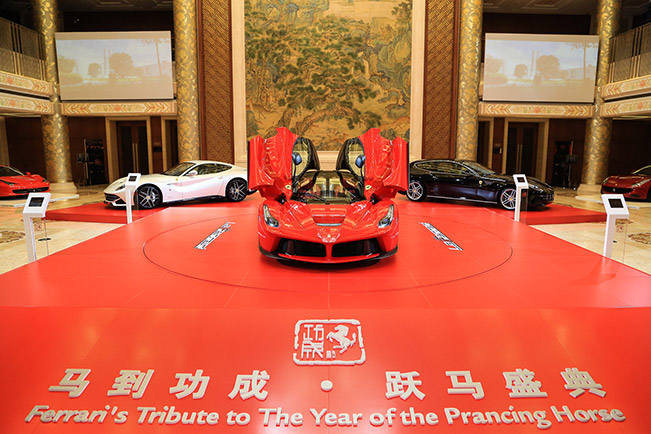 LaFerrari for The Year of The Horse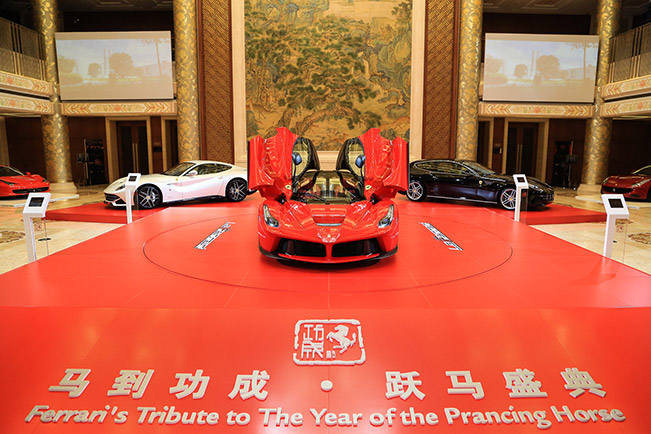 A major event was organised by Ferrari to bring to an end its celebrations for the Year of the Horse in China. It took place at the Diaoyutai State Guest House, one of the most historic, beautiful and elegant edifices in Beijing.
Present were Ferrari Managing Director Amedeo Felisa, the CEO Of Ferrari Greater China, Edwin Fenech and the Formula 1 test driver Marc Gene, the three men witnessing the handover of the first LaFerrari in the country. It was a symbolic moment for the Prancing Horse company, as this special limited edition car, of which only 499 have been built, represents its passion for excellence. The LaFerrari is a symbol of the uniqueness of the marque, bringing together technological perfection and elegance of design.
There was another important event taking place in the Diaoyutai State Guest House, namely the presentation of two cars from the Tailor-Made programme, produced especially for the Year of the Horse and therefore taking their inspiration from two equestrian sports, the F12berlinetta Polo Edition and the FF Dressage.
LaFerrari for the Year of the Horse | 3 images
Source: Ferrari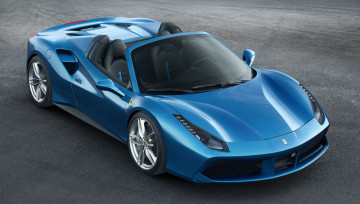 Ferrari 488 Spider is "Best...
Readers of Swiss car magazine "Auto Illustrierte" have voted the Ferrari 488 Spider first in the poll for "Best convertible car of the year 2016". The Ferrari 488...

Here you go, SF16-H!
A shortened nose, a tapered rear end and an intriguing red-and-white...