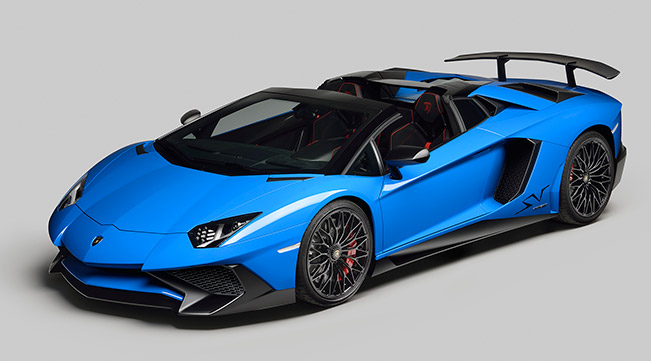 Automobili Lamborghini unveils the new Lamborghini Aventador LP 750-4 Superveloce Roadster in occasion of the Monterey Car week in California. The Roadster, presented at the famous event 'The Quail, A Motorsports Gathering', is available in a limited series of 500 units worldwide and is the first seriesproduced, open-top Lamborghini to bear the name Superveloce .
''The Superveloce is the purest, most sports-oriented and fastest series production Lamborghini ever. The Roadster version represents our commitment to satisfying our passionate clients with immensely emotional driving dynamics combined with an extraordinary open air experience,'' Stephan Winkelmann, President and CEO of Automobili Lamborghini said during the press conference at The Quail.
As a member of Lamborghini's storied Superveloce family, the car offers greater performance with a power increase of 50 hp to 750 hp and a dry weight of 1,575 kg (3,472 lb), that is 50 kg (110 lbs) lighter compared to the Aventador LP 700-4 Roadster. This leads to an exceptional power-to-weight ratio of just 2,1 kg/hp (4,6 lb/hp).
The Roadster maintains the coupe's breathtaking acceleration, sheer power and handling prowess. In an enhancement to the Superveloce coupé experience, the Superveloce Roadster's features a power rear window that allows the free-flowing engine sound to fill the cabin with invigorating tones and harmonics during spirited driving.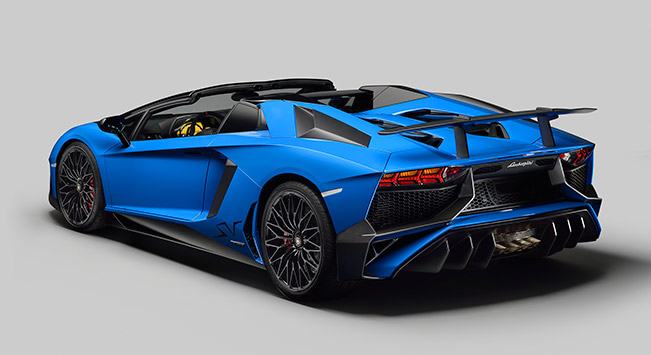 The naturally aspirated, 6.5-liter V12 produces 552 kW (750 hp) at 8,400 rpm and 690 Nm (509 lb-ft) of torque. Acceleration from 0-100 km/h (0-62 mph) happens in 2.9 seconds with a top speed of more than 350 km/h (> 217 mph).
Lamborghini's highly innovative 7-speed ISR transmission delivers an incomparably emotional gear shift and transfers the engine's power to all four wheels through a Haldex Generation IV 4WD system. Of course, as in the SV coupé the car takes advantage of adaptive Magneto Rheological Suspension, a pushrod damping system and Lamborghini Dynamic Steering (LDS) for improved driving dynamics
And as with the Aventador LP 700-4 Roadster, the SV Rodster comes with a two-piece hardtop made from carbon fiber featuring technologies such as RTM and Forged Composite®, which deliver a perfect surface finish, allow complex design shapes and the highest possible component stiffness combined with extremely low weight. Thus, the two roof parts each weigh less than six kilograms (13.2 lb) and can be stowed easily in the luggage compartment. They provide the perfect complement to the monocoque, which is entirely made from carbon fiber.
Deliveries of the Aventador LP 750-4 Superveloce Rodster begin in early 2016 with base pricing of 357,000.00 Euros (excl. VAT) or USD 530,075.00 MSRP.
Source: Lamborghini