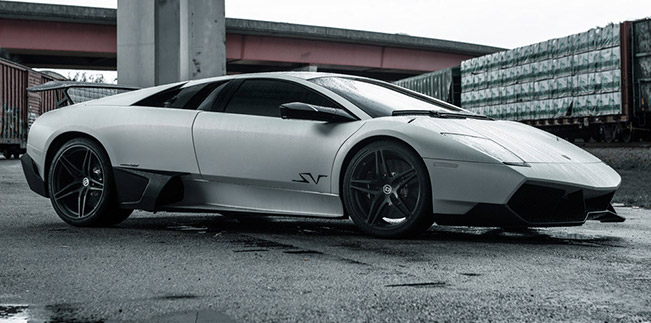 Despite being just five years old, the Lamborghini Murcielago LP670-4 SV (SuperVeloce) really has become an icon of the Lamborghini brand. Designed to send off the Murcielago in spectacular style, the SV is the fastest and arguably more importantly, most insane looking Murcielago ever created. And to think some criticised Lamborghini for becoming diluted since Audi took control of the Italian firm.
Under the hood, its 6.5-litre V12 engine has been upgraded to 661 hp at 8000 rpm and 490 lb-ft of torque at 6500 rpm. This additional power has been achieved through revised valve timing and an improved intake system as well as a new exhaust system. Alongside the power gains, the Murcielago SV also weighs 100 kg less than the standard LP640 thanks to the extensive use of carbon fibre.
As with most Lamborghinis produced in the past five years or so, the vast majority of the 186 Murcielago SVs produced featured the six-speed e-gear transmission. However, the following matte white example which resides in the U.S. is fitted with the six-speed gated manual shifter and thanks to a set of satin black HRE wheels, looks absolutely spectacular.
These particular wheels are the HRE P107 and because they maintain a similar twin five spoke design to the standard SV wheels, they work perfectly with the rest of the car.
Source: HRE