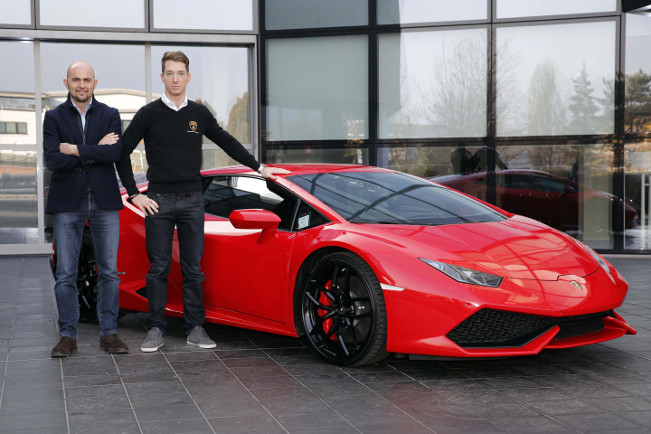 Lamborghini Squadra Corse confirms Mirko Bortolotti as official racing driver until 2019, proving its commitment to constant investment in talented young drivers coming from the Lamborghini Blancpain Super Trofeo and GT3 championships.
In 2016 Mirko will debut on track in January, when he will race with the Lamborghini Huracán GT3 in the famous 24 Hours of Daytona with the American Paul Miller Racing team.
"We are proud and happy to extend the agreement with Mirko and to benefit from his contribution to the development of our motorsport programs in the medium and long term. This is the result of excellent work both in and out of the car, reflecting the values of Lamborghini Squadra Corse. We are confident that Mirko can be an example for all talented young drivers who look at Lamborghini's motorsport program as a future career opportunity," says Giorgio Sanna, Head of Motorsport at Automobili Lamborghini.
"It is a great thrill for me to be and to remain part of the Lamborghini family. I would like to thank Giorgio Sanna and all the Lamborghini Squadra Corse team for their faith and for continuing to believe in me. I will continue to work hard to get the best in every circumstance", comments Mirko Bortolotti.
Mirko Bortolotti (25), is a professional racing driver and he is currently recognized as one of the biggest Italian talents in motorsport. In 2008 he won the Formula 3 Italian Championship, in 2011 he graduated as FIA Formula 2 champion and in 2013 won the drivers' title in the World Series Renault Eurocup Megane Trophy.
In 2014 he participated in the Lamborghini Blancpain Super Trofeo in Europe. Thanks to his excellent results, Lamborghini Squadra Corse involved him in the young drivers' program, where he has provided valuable input during the development phases of the new Lamborghini Huracán Super Trofeo and GT3.
In 2015 he joined the Blancpain Endurance Series as Lamborghini Squadra Corse official driver with Grasser Racing Team, gaining two pole positions at Paul Ricard (France) and at the Nürburgring (Germany) with the Lamborghini Huracán GT3.
In June of the same year, he also took first place in his ADAC GT Masters debut at The Red Bull Ring. Last October in Misano (Italy), achieved two podiums at his debut in the Blancpain Sprint Series. To his credit he has also five wins in the Italian GT Championship, where in 2015 he finished third overall.
Source: Lamborghini