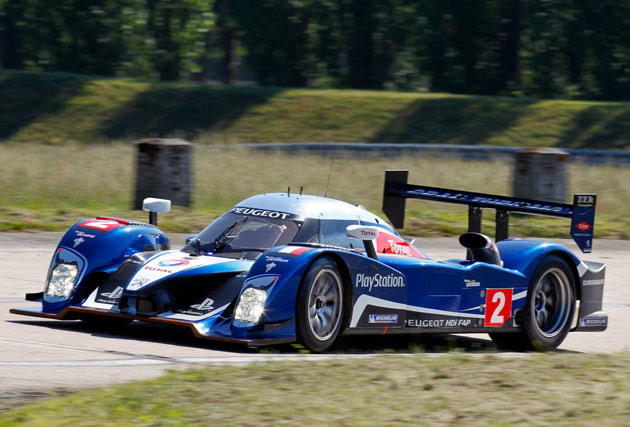 Peugeot 908 HDi qualifying for Le Mans 2010
Qualifying for the 24 Hours of Le Mans is getting quite predictable, with the big question being which of the Peugeot 908s will come out on top. After three timed sessions over two days, the No. 3 Peugeot of Pedro Lamy, Sebastien Bourdais and Simon Pagenaud came was quickest as the four French diesels filled the first two rows on the grid. Right behind them are the three factory Audi R15+ TDIs and then the two Aston Martin-Lolas.
Down the field in the LMP2 ranks, the Honda powered ARX-01c campaigned by UK-based Strakka racing lapped the eight-mile circuit 1.46 seconds faster than a similar car being run by defending American Le Mans Series champs Highcroft Racing. 2010 is the final year of eligibility for the GT1 class at Le Mans and Aston Martin hopes to go out in style. The DBR9 driven by Tomas Enge, Christoph Nygaard and Peter Kox edged out a pair of Ford GTs and the ex-factory GT1 Corvettes.
In GT2, ALMS regulars ruled the roost. The No.82 Risi Ferrari ran fastest but its time was disallowed because of an unknown technical infraction. As a result, the two Corvette C6.Rs will lead the GT2 field to the green flag with Oliver Gavin, Olivier Beretta and Emmanuel Collard on the pole. Unfortunately for the JaguarRSR team, the cool green-and-black leaping cat livery has not translated into much speed with the XKR finishing dead last in qualifying, nearly 13 seconds slower per lap than the lead Vette. The green flag falls at 3PM CET on Saturday, so stay tuned.