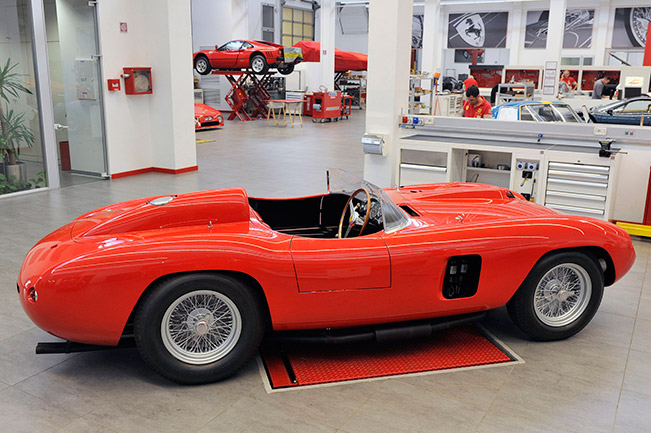 Fangio, Castellotti, De Portago, Von Trips, Phil Hill, Stirling Moss. Motor racing legends that shared not just races, victories and marques, but also a specific Ferrari, the 290 MM. We're not talking about a model but an actual individual car – engine, bodywork and chassis number – which a few months back arrived at the Ferrari Classiche department for restoration.
On this car, born as 860 Monza , Enzo Ferrari decided to swap the latter's 4-cylinder engine with a 12-cylinder, creating the 290 MM. In its first two years, it was driven by an astonishing list of champions in a hugely diverse array of races from the Mille Miglia (hence the MM moniker) to the Targa Florio, the Swedish Grand Prix and the 12 Hours of Sebring.
In 1957, it was sold to Belgian driver Jan De Vroom who was, however, involved in a serious accident in it in Sweden. The car was repaired and the body radically modified. In fact, at De Vroom's behest the original nose was replaced with a longer, more prominent pontoon fender-style one, inspired by the famous Testa Rossa.
The 290 MM has now been lovingly restored to its original 1956 look and shape. The workers in the Ferrari Classiche department already know when it will be completely finished and ready to return to its legitimate owner and they're missing it already.
Source: Ferrari