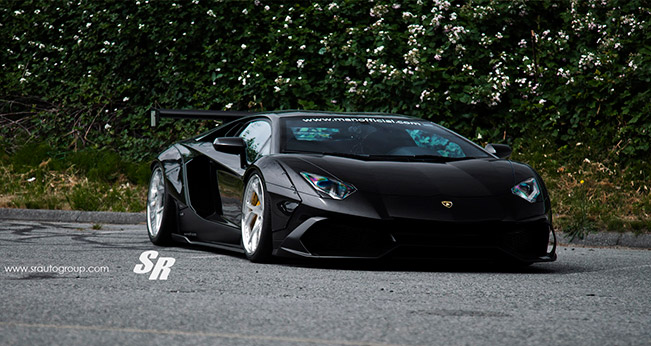 It's blown up all over social media, and now its finally time for us to debut it ourselves. Striving to bring you the best and only the best, we have created Vancouver's very first Liberty Walk Lamborghini Aventador.
As insane as this build is and was, our goal was to create something sleek and refined. Thus, no wild colours were selected, only classic and traditional tones. The entire exterior, which consists of a LP720 front and rear bumper and the Liberty Walk flares were finished in the factory Aventador black.
The PUR LX19.V4 on the feet of the Aventador were finished in a very tradtional setup of brilliant silver face and polished lip. Just simple and straight forward tones that do not disguise the immense detail of the wheel.
The entire build did take a little while to complete but nothing great comes with ease. This car was built to drive, so keep a look out this summer as you'll see it roaming the streets of Vancouver.
Wheels
PUR LX19.V4, 20×9, 21×13 | Matte Brilliant Silver Face, Polished Lip
Suspension
Exterior Liberty Walk Aventador Black
LP720 Front Bumper
LP720 Rear Bumper
Liberty Walk Wide Front Fender Flares
Liberty Walk Side Skirts
Liberty Walk Wide Rear Fender Flares
Liberty Walk Rear GT Wing
Source: SR Auto Group