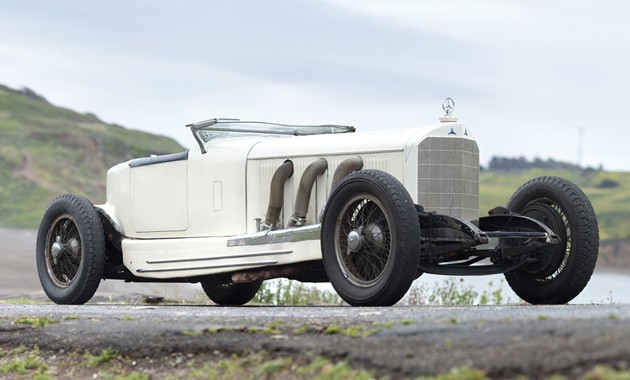 Marx Brothers' 1927 Mercedes-Benz S Boattail Speedster
It may look glamorous to outsiders, but life as a Hollywood mogul can get a little monotonous. Hence, it comes as little surprise when we hear of celebrities making all manner of crazy wagers. The most memorable is arguably the one that took place in 1932 between Zeppo Marx and agent Phil Berg. Marx bet that his 1927 Mercedes-Benz S Boattail Speedster could leave Berg's Duesenberg in the dust, and the two put $10,000 on the table – a dizzying amount of cash at the time. Off they went to the dry lakes outside north Hollywood, along with more than a thousand spectators, to settle the bet. Berg's Duesey took the honors and the cash, but 78 years later, the Marx Mercedes is making headlines again.
Never having left California and still bearing its original yellow license plates, the very same Boattail Speedster is now heading to the auction block courtesy of Gooding & Company at the upcoming Pebble Beach Concours. Of course, the Merc isn't the only classic up for grabs this year. Among the other lots are a 1956 Maserati 200 SI once campaigned by Stirling Moss, which was a class winner at Amelia Island earlier this year.
A 1951 Ferrari 340 America that served as the New York Auto Show car in 1952 and has campaigned extensively in historic meets since is also among the early consignments for the event, which takes place August 14 and 15, 2010 at the Pebble Beach Equestrian Center. Details are in the press release after the jump, and high-res images of these three featured lots are in the galleries below.