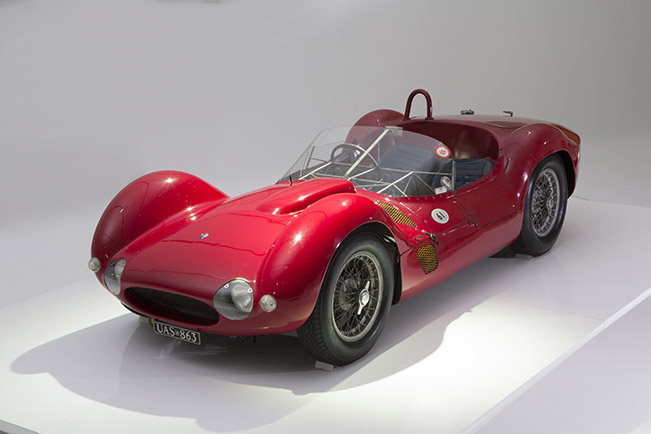 A unique exhibition dedicated to the Centennial of Maserati was inaugurated in Modena this morning. MASERATI 100 – A Century of Pure Italian Luxury Sports Cars retraces the story of the Italian car manufacturer through an exhibition featuring some of the Trident marque's most significant road and racing cars, plus a highly engaging show employing 19 projectors, enabling visitors to relive the most significant moments in the history of Maserati and to learn about the individuals who shaped its history. Staged in the futuristic Enzo Ferrari Museum, a stone's throw from the Maserati headquarters in Viale Ciro Menotti, the exhibition will run until January 2015. Considering the historic value of the models exhibited, this is the greatest exhibition of Maserati cars ever staged anywhere in the world.
The inauguration of the new exhibition was attended by the CEO of Maserati, Harald Wester, and the Chairman of Ferrari, Luca Cordero di Montezemolo. They were joined by the cousins Carlo and Alfieri Maserati, sons, respectively, of Ettore and Ernesto Maserati, the two brothers who in 1914, together with Alfieri Maserati, founded the company that still bears their name today. The guest of honour at the inauguration was the legendary Sir Stirling Moss, the 1950s Maserati racing driver who scooped incredible victories for the Trident marque. The curator of the exhibition is Adolfo Orsi jr., grandson and son of Adolfo and Omer Orsi, owners of Maserati between 1937 and 1967. Coordinating the exhibition on the Maserati side is Luca Dal Monte, the company's director of public relations and press. The exhibition is organised under the supervision and direction of Antonio Ghini, director of MEF and of the Ferrari Museum in Maranello.
Twenty-one Maseratis will be on permanent display for the duration of the exhibition and a total of approximately 30 will be admired over the course of the six-month run. Ten or so cars will be exhibited on a rotation basis, allowing them to take part in the countless events being staged across the globe to mark the Maserati centenary in the coming months. In keeping with the exhibition venue, which is dedicated to Enzo Ferrari as it was the birthplace of the legendary Modena-born car manufacturer, visitors will also have the opportunity to see rare Ferrari models and the most important Alfa Romeo racing cars of the pre-war period which were driven by Ferrari or entered in international competitions by the racing stable that still bears his name today. This part of the exhibition is located in the large workshop, where Enzo's father worked from the end of the 19th Century until his death, which today houses the extension to the Museum's exhibition space.
At the exhibition inauguration, the CEO of Maserati Harald Wester observed that: "The Centennial of Maserati could not have come at a better moment in our history. I say this because today Maserati is a thriving company, with new models that have proven hugely popular with an ever-increasing audience and others, in the pipeline, which will propel the company towards the prestigious goals that we have set. This exhibition, which retraces our first century of history, is truly one of a kind: never before have all these models which have shaped our history been gathered together under one roof."
The Chairman of Ferrari, Luca di Montezemolo, who played a critical role in the re-launch of Maserati 15 years ago, said: "Today has a two-fold significance for me: I can clearly recall the conditions of quasi-neglect in which Maserati was floundering in 1997 when, together with my team at Maranello, I took up the challenge of re-launching the company. We shut the production sheds for six months, renovating and re-industrialising them, we created the new executive building and the large, spectacular showroom and, above all, we began working on the design and production of new models, one of which in particular has come to embody the current success: the 2003 Quattroporte. After this success story, Ferrari is today managing this important Museum which helps demonstrate to the entire world the unique ability that Italian car manufacturers have always had to build cars that are truly the stuff of dreams."
Source: Maserati