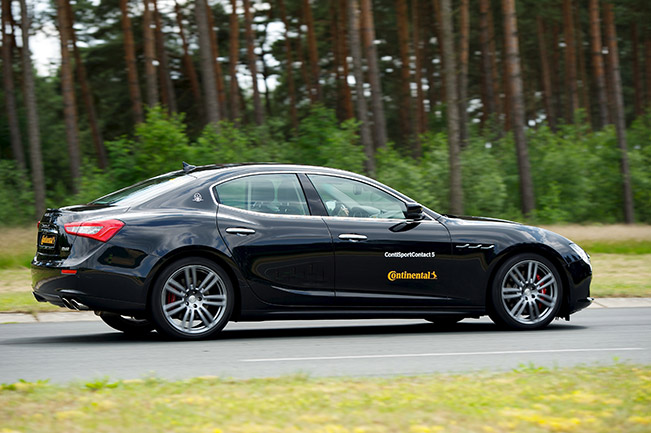 Italian sports car manufacturer Maserati has approved the ContiSportContact 5 tyre for the new Ghibli saloon. This is the second approval that the tyre specialist from Hanover has received from the maker of thoroughbred sports cars, following approvals for the Quattroporte last year.
Continental will now manufacture the ContiSportContact 5 in eight sizes between 18 and 21 inches for the Maserati Ghibli. To distinguish it from other versions of the premium sports tyre, the original equipment models for the Italian sports saloon will feature the "MGT" marking on the side wall.
The Ghibli will be fitted with the ContiSportContact 5 in size 235/50 R 18 97 Y, with the axles on more powerful models fitted with 19, 20, and 21-inch tyres. Wider tyres will be fitted on the rear axle of the Ghibli to ensure that the sports saloon delivers high performance on the road with precise handling. The product range starts with tyres from 18 inches, and models with more powerful engines of up to 410 hp will be fitted with ContiSportContact 5 tyres in sizes 245/35 ZR 21 96 Y XL on the front axle and 285/30 ZR 21 100 Y XL on the rear axle. The tyres for the Ghibli are approved for speeds of up to 198mph.
With the ContiSportContact 5, Continental's engineers have developed a tyre which is suitable for performance cars and represents a significant progression on the successful ContiSportContact 3. With shorter braking distances in all weather conditions, excellent road grip, safety when cornering and reduced fuel consumption, the ContiSportContact 5 offers the ultimate performance choice.
Continental supplies the leading automakers with this tyre as original equipment for their high-end sports models, while prominent tuning companies and sports car manufacturers also rely on the ContiSportContact 5 engineered in Hanover.
Source: Maserati