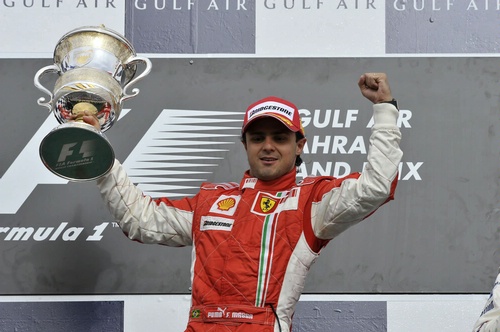 Two races down, no finishes, no points, so how do you respond? Felipe Massa showed his critics exactly how at the Bahrain Grand Prix by taking the chequered ahead of teammate Kimi Raikkonen for Ferrari's first 1-2 of the season.
Massa had been dominating the track all weekend topping free practice session times but was just pipped by Robert Kubica for his and BMW's first ever pole position. He soon made up for this by over taking the Polish driver at the lights to take the lead and there he stayed despite a mid race challenge from team mate Kimi Raikkonen.
Kubica eventually finished 3rd with his BMW team mate Nick Heidfeld just behind him completing another successful grand prix which leaves the German team heading the constructors championship.
McLaren driver Heikki Kovalainen eventually finished 5th, but Lewis Hamilton had a nightmare. Starting from 3rd on the grid, the British driver was hoping to be challenging the leaders from the offset, however he failed to hit the car's anti-stall button and found himself down in 10th position off the line. Things then went from bad to worse as he drove into the back of former team mate Fernando Alonso forcing him to make an early unscheduled pit stop prompting claims the Spaniard deliberately "brake tested" Hamilton. Ron Dennis later reported the crash was due to a wing failure and not a driver error as Hamilton believed it to be. Eventually Hamilton finished 13th and a lap down.
The result now leaves Raikkonen leading the world championships on 19 points, three points ahead of Heidfeld with Hamilton, Kubica and Kovalianen all on 14 points as the Formula 1 race season heads to Barcelona in three weeks time.
Bahrain Grand Prix Race Result
| | | | | | | |
| --- | --- | --- | --- | --- | --- | --- |
| Pos | Driver | Team | Laps | Time/Retired | Grid | Pts |
| 1 | Felipe Massa | Ferrari | 57 | 1:31:06.970 | 2 | 10 |
| 2 | Kimi Räikkönen | Ferrari | 57 | +3.3 secs | 4 | 8 |
| 3 | Robert Kubica | BMW | 57 | +4.9 secs | 1 | 6 |
| 4 | Nick Heidfeld | BMW | 57 | +8.4 secs | 6 | 5 |
| 5 | Heikki Kovalainen | McLaren-Mercedes | 57 | +26.7 secs | 5 | 4 |
| 6 | Jarno Trulli | Toyota | 57 | +41.3 secs | 7 | 3 |
| 7 | Mark Webber | Red Bull-Renault | 57 | +45.4 secs | 11 | 2 |
| 8 | Nico Rosberg | Williams-Toyota | 57 | +55.8 secs | 8 | 1 |
| 9 | Timo Glock | Toyota | 57 | +69.5 secs | 13 | |
| 10 | Fernando Alonso | Renault | 57 | +77.1 secs | 10 | |
| 11 | Rubens Barrichello | Honda | 57 | +77.8 secs | 12 | |
| 12 | Giancarlo Fisichella | Force India-Ferrari | 56 | +1 Lap | 18 | |
| 13 | Lewis Hamilton | McLaren-Mercedes | 56 | +1 Lap | 3 | |
| 14 | Kazuki Nakajima | Williams-Toyota | 56 | +1 Lap | 16 | |
| 15 | Sebastien Bourdais | STR-Ferrari | 56 | +1 Lap | 15 | |
| 16 | Anthony Davidson | Super Aguri-Honda | 56 | +1 Lap | 21 | |
| 17 | Takuma Sato | Super Aguri-Honda | 56 | +1 Lap | 22 | |
| 18 | David Coulthard | Red Bull-Renault | 56 | +1 Lap | 17 | |
| 19 | Adrian Sutil | Force India-Ferrari | 55 | +2 Laps | 20 | |
| Ret | Nelsinho Piquet | Renault | 40 | Gearbox | 14 | |
| Ret | Jenson Button | Honda | 19 | Accident damage | 9 | |
| Ret | Sebastian Vettel | STR-Ferrari | 0 | Accident damage | 19 | |