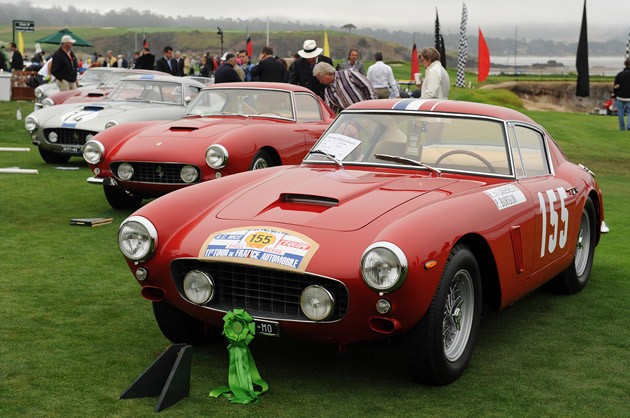 Ferrari 250 GT Scaglietti SWB Gathering at Pebble Beach
Although most Ferrari modelsare highly coveted, the 250 GT Short Wheelbase Berlinetta is one of those cars that sportscar enthusiasts dream of even catching a glimpse of someday. Well, "someday" was Sunday at the 2010 Pebble Beach Concours d'Elegance for those who attended. And not only did they get the chance to see a 250 GT SWB up close and personal, but there were eight of them on hand so everyone could share. How clever.
As the historians among you will know, Ferrari had been building street and race cars since 1947, and through the '50s they also made some of the most exquisite dual-purpose cars of all time as well – cars that could be driven to track then raced there. In the late '50s, the best known of these was Ferrari's 250 GT Long Wheelbase Berlinetta – a.k.a. the "Tour de France." At the Paris Auto Show in 1959, its replacement was shown for the first time – the 250 GT Passo Corto, or Short Wheelbase Berlinetta. As its name suggested, it rode on a shorter wheelbase than the TdF, but also had other significant changes.
The engine was a classic 3.0-liter Ferrari V-12, producing between 240 and 280 horsepower. Less than 160 SWBs were built from 1959-1962, no two exactly alike. There were "Lusso" versions with a steel body, a full interior, door panels, sound deadening materials and wind-up windows. There were also light alloy cars with smaller diameter tube frames, no sound deadening, sliding Plexiglas windows and race-ready high-compression engines. These were for people who definitely wanted to track their car,s and although faster than the Lusso editions, they didn't quite match the ultimate SWBs – the Comp/61 or "SEFAC Hot Rods."
The SEFAC cars had the alloy body but also some subtle changes like a more laid-back windshield. They also used the highest spec, with almost 300 horsepower. So-equipped, they could run 0-60 mph in five seconds and had a top speed over 150 mph. Ferrari only built 21 of these Comp/61s and four of them were in the mix at Pebble this year. What a treat.
Although ruggedly handsome, with an aggressive stance and tight proportions, the appeal of the SWB goes further. The SWB is forever coupled with that time in racing history when the Italians started to feel the pressure from a new foe – The Americans…and one particular Texas chicken rancher/racer who was helping Ford take down the Maranello firm. The threat posed by the Shelby Cobra was countered by another evolution of the dual-purpose Ferrari sports racer – the legendary 250 GTO.