Monterey 2010: Ferrari F40 birthday bash at Concorso
Filed under: Classics, Coupe, Performance, Ferrari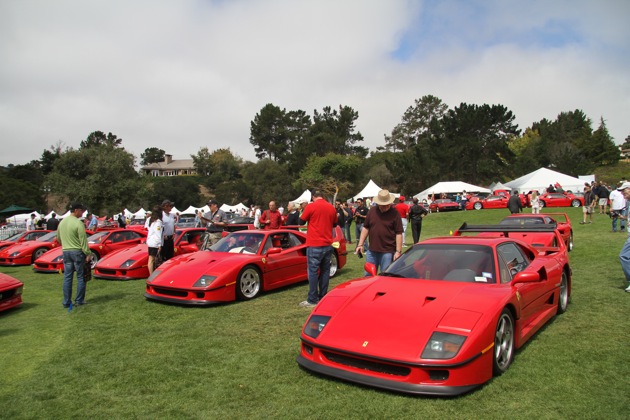 Ferrari F40s at the 2010 Concorso Italiano - Click above for high-res image gallery


Concorso Italiano
threw a party for the legendary
Ferrari F40
, and the turnout was, well, almost as good as the car itself. Thousands of show attendees were treated to more than a dozen examples of Enzo Ferrari's final project.
As you probably know, the F40 was named to celebrate Ferrari's 40th anniversary, and the celebration at Concorso honored the 20th anniversary of the car's 1990 arrival here in the States. (Let's not quibble over the fact that Ferrari the company was actually born in 1947, meaning the F40 should have actually arrived in 1987. The show car was first unveiled in 1987 and that's good enough for us.)
The late arrival of what some still view as the ultimate supercar did nothing to dampen the spirits of the men and boys who fell in love with it at first sight and still carry a torch for it today. The F40 celebration was one great reason to go to Concorso Italiano this year. If you didn't have the opportunity to attend in person, hit the gallery below to see how the lineup of F40s looked at one of
Monterey week's
biggest exhibitions.
Photos by Frank Filipponio /
Copyright (C)2010
AOL
Monterey 2010: Ferrari F40 birthday bash at Concorso originally appeared on Ferrari News on Sat, 14 Aug 2010 15:38:00 EST. Please see our terms for use of feeds.
Permalink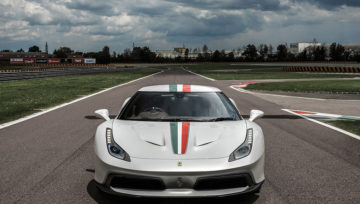 Ferrari 458 MM Speciale
Ferrari has unveiled its latest One-Off creation during the car's first shakedown on the Fiorano circuit in the hands of Ferrari's chief test driver Dario Benuzzi and the...

2017 Fiat 124 Spider...
Since the introduction of the Fiat 500 Abarth at the 2011 Los Angeles...