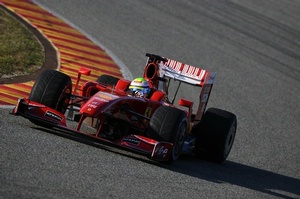 Ferrari's newly launched 2009 single seater, the F60, has been declared "illegal" by a specialist German motoring publication.
Auto Motor und Sport said the car, revealed last week at the Mugello circuit in Italy, features rear exhaust outlets that contravene the sweeping new technical regulations.
The magazine said some of the Italian team's rivals have noted that because of the new rules cracking down on bodywork appendages like aerodynamic winglets, exposing the exhausts in the way the F60 is designed is not allowed.
A glance at the other new cars revealed so far – the Renault, Williams, McLaren and Toyota – shows that their exhausts have all been mounted in-board.
Auto Motor und Sport said it should not be too much of a problem for Ferrari to redesign the exhaust housing, but it may help to explain the team's retreat from the Portimao group test this week to Mugello.
Officially, Ferrari decamped to Mugello because of adverse weather forecasts for this week, but the magazine said the F60 also showed a significant problem with its front wing when tested last week.
It is suggested that, in light of these challenges, Ferrari concluded that it should be conducting the car's first major test as close as possible to its Maranello base.