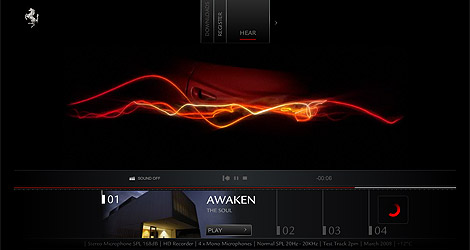 A new Ferrari Grand Tourer is in the offing and, in an innovative move, will be revealed to the fans and enthusiasts in a non-traditional way. In the build-up to the new model's official unveiling at the Paris Auto Show next October, Ferrari will be revealing it bit by bit on the dedicated ferrarigtcountdown.com site. Visitors to the site will be guided through a sensory voyage of discovery which, over the coming weeks, will gradually reveal the new car in its entirety and feature some highly gratifying virtual road tests too.
The new site launched last week and began that voyage of discovery with the sense of sound. The roar of the new GT's engine is the first bit of it to be revealed to enthusiasts, in fact, and will be followed over the next few days by the first photographs of this eagerly-awaited car whose name will also be revealed.
This is the first time that the Prancing Horse has used this virtual voyage of discovery approach which will allow it to illustrate various aspects of the new GT model's design and the many, many technological innovations that it sports.
Updates and additions to the site will continue until the Paris Show. To ensure that you are kept constantly abreast of the new content being revealed, simply register with the site and then experience these sneak previews of this latest gorgeous Ferrari creation.
This new approach to unveiling the car will naturally also be flanked by more traditional encounters involving the release of photographs and, of course, the Paris Show. It is, in fact, just one part of a highly focused strategy that puts the web at centre stage as an instant, privileged communications channel through which Ferrari can keep in constant contact with its burgeoning numbers of fans and enthusiasts worldwide.