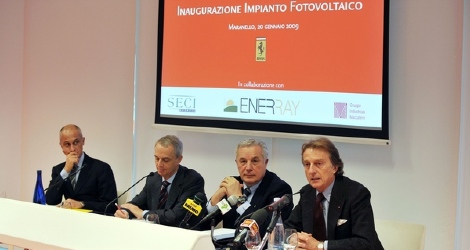 The new photovoltaic system, installed on the roof of Ferrari's Engine Mechanical Machining facility, was officially unveiled to the world today. The installation comes as part of Ferrari's ongoing environmental sustainability and renewable resources investment programme.
The photovoltaic panels will reduce the amount of power Ferrari takes from the national grid by over 210,000 kWh annually. The system is the work of EnerRay, a Maccaferri Group company.
Ferrari's plan to reduce the environmental impact of its production activities also includes the installation of a trigeneration plant which will be operational by the middle of this year. The new plant will cover virtually all of the company's electricity requirements, which will in turn cut its CO2 emissions in 2009 by 25-30% compared to the present levels.
Ferrari's commitment to environmental sustainability dates all the way back to 2001 when it was awarded ISO 14001 certification; the Prancing Horse also obtained Integrated Environmental Authorisation in 2007.
Over the last few years, Ferrari has also made numerous investments to increase the size and number of green areas both inside and outside its various industrial pavilions. The complex now boasts around 165,000 square metres of green areas with more than 200 trees planted there in the last six months alone.
Our environmental protection investments are also part of the overall Formula Uomo programme launched in the early 1990s by President Luca di Montezemolo to put the individual workers, their needs and skills at the centre of the Company's activities.
TECHNICAL SPECIFICATIONS OF THE PHOTOVOLTAIC SYSTEM
• Installed by: EnerRay
• Type of system: not integrated – installed on flat roof
• Orientation: SOUTH-FACING
• Number of modules: 1075
• Module type: 185 Wp Mitsubishi Electric
• Peak power: 198.85 kWp
• Annual electrical output: 213,985 kWh
• Number of inverters: 2
• Inverter type: Siemens Sinvert Solar 100, master/slave configuration
Source: Ferrari