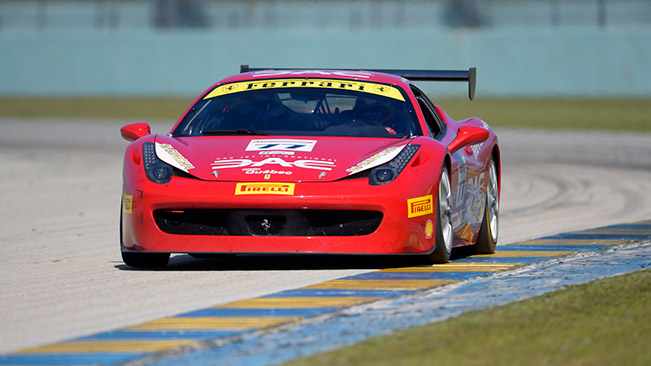 Although ominous clouds hung over Homestead-Miami Speedway during the second race of the North American Ferrari Challenge, the rain held off until after the celebrations as nine finishers in the Trofeo Pirelli, Trofeo Pirelli AM, and Coppa Shell classes revered their victories.
Twenty-seven drivers stood on the grid with Emmanuel Anassis of Ferrari Quebec leading the troupe. Qualifying for Race 2 was cancelled this morning due to inclement weather making the starting order determined by the current championship point standings after yesterday's race. But that didn't halt the excitement of the fans as they were brought to their feet in jubilation, supporting their favorite drivers and teams.
Anassis lead from the green to chequered flags, finishing again on top of the podium steps for the Trofeo Pirelli class. Scott Tucker (Boardwalk Ferrari), who started fourth on the grid, quickly overtook two positions during the first lap and maintained his pace throughout. He and John Farano of Ferrari of Ft. Lauderdale would finish second and third again.
And just like yesterday, the drivers from Trofeo Pirelli AM would give a brilliant showcase of endurance and racing. Robert Herjavec from Ferrari of Ontario aggressively maintained his leading position against Ferrari of Ft. Lauderdale's Mike Zoi. Following swiftly behind were Arthur Romanelli (The Collection) and Carlos Conde (Miller Motor Cars), battling for a top three finish. But as the final laps were completed, Zoi overtook Herjavec, finishing first in his class with Romanelli and Conde in second and third positions respectively.
Barry Zekelman from Ferrari of Ontario stood atop of the podium steps for Coppa Shell after a very impressive stint, moving up 13 positions. Equally rewarding was Rich Baek's (Ferrari of San Diego) performance, racing close behind Zekelman in second for his first podium finish of the season. Dan O'Neal of Ferrari of Ft. Lauderdale would complete the Coppa Shell winners in third place.
Source: Ferrari