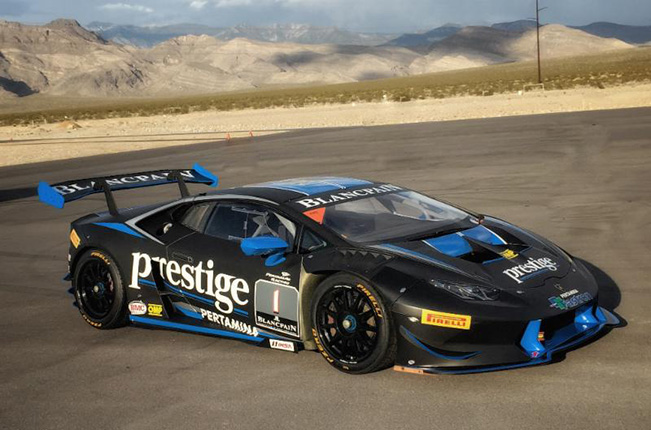 Lamborghini Blancpain Super Trofeo North America competitors descended on Spring Mountain Motor Resort & Country Club this week to receive their long-awaited Lamborghini Huracán LP 620-2 Super Trofeo cars.
The Italian-crafted machines were delivered April 20 to Spring Mountain, a 50-minute drive from Las Vegas, where teams and drivers had their first chance to view and collect their cars for the season.
Lamborghini Squadra Corse and Super Trofeo officials provided technical training sessions on the nuances of the new supercar and gave drivers track time before the season opener May 1-3 at Mazda Raceway Laguna Seca.
The Huracán LP 620-2 Super Trofeo adopts the V10 direct-injection engine mounted on the road car, managed by a MoTeC control unit, that delivers a maximum output of 620 horsepower. The frame is a hybrid carbon/aluminum construction with modified geometries to house an improved radiator up front and better accommodate the racing gearbox at the rear, which also provides better aerodynamics. One of the biggest changes from the four-wheel-drive Gallardo LP 570-4 Super Trofeo is the adoption of rear-wheel drive on the Huracán LP 620-2.
This season will see the largest grids in Lamborghini Blancpain Super Trofeo North America history, with a mix of returning and new drivers ready to compete for a championship.
Competition in the series is divided into two classes this season – one featuring the new Huracán supercar and the other featuring the 2013 Gallardo LP 570-4 Super Trofeo.
Lamborghini Gallardo drivers also tested at Spring Mountain this week to prepare for the season.
The 570-horsepower, V10 Lamborghini Gallardo LP 570-4 Super Trofeo features impressive technology such as paddle-shift, E-gear transmission, Öhlins race shocks, Brembo brakes, a carbon fiber aerodynamic package that includes a rear wing with 10 adjustable positions, MTA data acquisition, air jacks, center wheel locks and more.
The entire field will come together for the season opener next week, the first time North America will see the Huracán and Gallardo racing together on the same track.
Source: Lamborghini